If you are camping off the grid and want a hot cup of coffee or just want to boil water for your just-add-water meal, your options are quite limited. Either you have to make a wood fire or set up a propane or butane camping stove. Have you ever wondered if there is a battery operated kettle for camping that you can just turn on and make a quick hot beverage? Let's find out our options.
When it comes to heating water using battery power, you won't find many kettles in the market. The reason is "physics". Batteries are very poor store of energy, and water takes a lot of energy to heat up. That's the reason most kettles are either plug-in types or powered by liquid camping fuel like Propane.
But if you are still adamant about using a battery powered kettle, we have a few options that we can use. [also read my post on battery powered heaters for camping]
Battery operated kettle – what are our options?
First, let's try to understand why battery powered electric kettles are not very common in the market. If you search online, you won't find many companies or brands advertising a true battery powered electric kettle that you can bring camping, and there is a reason – batteries are not great at storing a large amount of power.
If you want to heat a single cup of water (230ml) from room temperature (25 °C) to boiling (100 °C), you will need around 20 Wh of power. A small battery of the size of your typical coffee cup can hold this much power, but it will need to be recharged after every single use.
If you are going for a portable, cordless electric kettle, you have 3 options. Let's discuss each one in detail so that you can make the best choice for your next camping or road trip.
Rechargeable battery powered kettles
If you are looking for a battery operated kettle, a rechargeable battery-powered kettle is the closest thing to what you have in mind – a truly cordless, rechargeable kettle that you can take with you on a trip, press a button, and boil a hot cup of water for your coffee. Below are a few products in this category that I found useful and practical.
The best product I found so far in this category comes from Makita – a company that makes cordless electric tools. Their battery powered coffee machine can make a hot cup of coffee in just a few minutes (see the video below).
But you must be wondering why a hardware work tool company is making coffee machines? The answer is that they already make these huge Li-ion batteries that run their cordless tools like drills etc. and they can use the same batteries to power up a small single cup coffee machine.
The battery operated coffee machine is quite portable and fits a small coffee cup. You can have a hot steaming coffee or tea in about 5 minutes. Gimmicks aside, as far as a truly rechargeable coffee machine or kettle goes, this is the most practical product I found in the market.
Another worthy mention is an instant kettle called The Duo Carafe. It is patented by Heatworks – a company based in Mt. Pleasent SC and introduced it at CES 2019 with pre-orders to be expected in early 2020 but so far, it is not up for sale on their site.
It uses the Heatworks patented Ohmic Array Technology that heats the water almost instantly while you pour it from your kettle. It sounds too good to be true, but the company is already selling an instant water geyser that works on the same technology so, fingers crossed.
The cauldryn coffee pro is not a kettle, but it is a heated flask that can keep your boiling water at a set temperature for up to 10 hours so that you can use it when needed.
This is a quite small and portable device that you can carry in your backpack before going on a hike from your campsite. Just pour in hot boiling water and set the temperature using the digital display, and the cauldryn coffee pro will keep your water hot and ready for an instant cup of coffee.
Muggo is also a heated coffee or tea mug that can keep your hot beverage hot while you are on the go. It has a lithium-ion battery that can keep your coffee hot for up to 3 hours. It can keep your coffee or tea hot at up to 65 °C
It has a dual charging station that can charge your detachable battery from any wall power source. You can charge two batteries at a time before leaving for the outdoors to give yourself a total of 6 hours of hot muggo.
12V car kettles & mugs
If you are not convinced with any of the portable and rechargeable battery options above, your next best solution is to get a 12V car kettles that connect to your car cigarette plug and boils your cup of water for a hot coffee.
These 12v kettles are particularly useful if you are camping out of your car or RV and have access to a 12v power port that can draw current from the car battery. Remember to keep your car running so that the battery is not drained fully in an attempt to make a cup of coffee.
Check out the following 3 products in this category.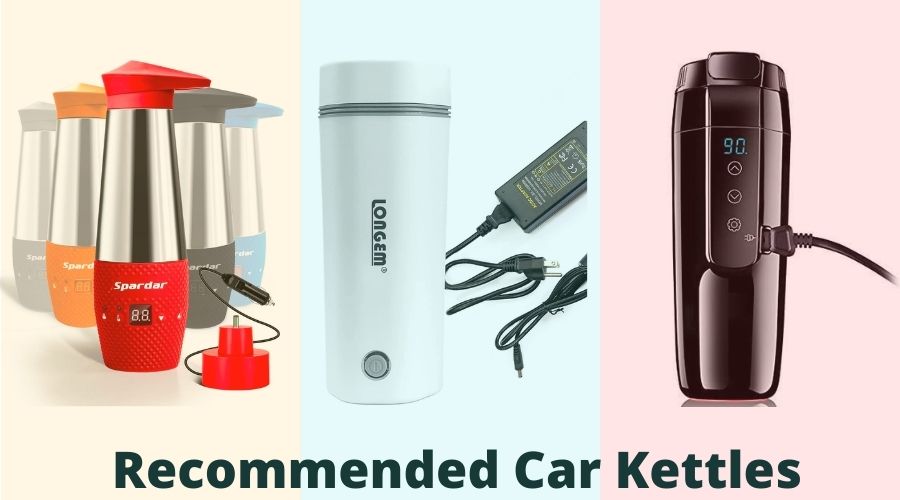 | Car Kettle | Power Rating | Capacity | Boiling time |
| --- | --- | --- | --- |
| Spardar | 120W | 348 ml | 20 minutes |
| Longem | 140W | 350 ml | 25 minutes |
| Kemin | 70W | 350 ml | 25 minutes (up to 90°C) |
All 3 of the above car kettles are insulated, so once you make your cup of tea or brew your coffee, you can close the lid, and it will keep your beverage warm for hours. Pretty neat solution if you do car camping or just work out of your vehicle (hello FedEx drivers). Just make sure you don't spill the liquid inside your car else, you will have a hard time cleaning the interior.
110v/220v kettles + camping power stations
Our third option is to get a regular 110v or 220v electric kettle and pair it up with a camping battery pack that people usually carry with them.
This option is the most effective yet the least portable than the above two solutions we discussed. If you are carrying electronic devices with you on camping, like mobile phones and laptops, you might want to look into getting a suitable battery bank as well.
They are expensive but works really really well in areas where wall power is not available. The below 3 options are my recommended ones.
Yeti 1500X Portable Power : This monster power bank has a total capacity of 1516Wh. It can charge all of your gadgets, and it can even operate your electric kettle or stove for a long time. You may boil 16 liters of water before the power runs out (which is significant when you only want to make a cup of coffee).
Jackery Explorer 1000 : With 1002Wh capacity, this is the 2nd largest bank I have seen in the market that is still portable. You can charge this via a standard power outlet and solar panels. This is great for powering up your electric kettle and any other device. With 1000Wh capacity, you can boil up to 12 liters of water.
BALDR Portable Power Station : You will store 461Wh with this battery pack which is not as high as the previous two but still pretty good. Remember that you also get a shorter charging time with smaller batteries, especially with solar panels. In my opinion, if you want to pack light and don't have much need for power, this one will work perfectly.
If you have any of these power banks on your camping trip, you can get ANY standard electric kettle and have a steaming hot coffee or tea any time you crave it. They can also power your other equipment such as portable battery powered air conditioners or fans.
For the kettle, I would highly recommend this collapsable and highly portable kettle from LOUTYTUO. It consumes 700 Watt and can boil half liter water in just 5 minutes. Perfect to use with any of the above power stations. The below table shows how many cups of coffee you can make using LOUTYTUO kettle with the above power stations.
| Power Station | Capacity (Wh) | Coffee Cups on LOUTYTUO |
| --- | --- | --- |
| Yeti 1500X | 1516 Wh | 75 |
| Jackery Explorere | 1002 Wh | 50 |
| BALDR | 461 Wh | 23 |
No. of coffee cups Loutytuo kettle can make on portable power stations
Conclusion
A truly portable yet very functional electric kettle that operates on a battery is hard to find, but we discussed a few options above to help you make the perfect cup of coffee outdoors. If you read this blog looking for a battery powered kettle, I hope you find something that works for you. Happy camping.
Recommended Camping Gears: I have compiled a list of my favourite camping gear in one place. The selection is based on my own personal experience using them for many years camping as well as feedback from fellow campers. Check them out on my Recommended Camping Gears page