Even if you haven't been on any winter camping trip, you might know that the number 1 adversary during a trip in the winter wild is the cold itself. To defend again the cold, you might think of warm tents and fancy heating solutions but your clothes are always going to be your first line of defense. Knowing how to dress for winter camping properly is your guarantee to enjoy your time in the cold.
Of all the camping trips I have been to, winter campings in the snow have been the most difficult ones until I figured out the perfect way to dress to beat the cold. Winter camping is not for the faint-hearted but once you get hold of what to wear and what to avoid, you can have the most adventurous experience of your life.
So, how to dress up for winter camping? To dress properly for winter camping, you have to put on three layers of clothing. The base layer is for moisture-wicking and should be wool or polyester. The middle puffy fleece is for retaining body heat and the outer jacket is for wind-breaking and waterproofing. Also wear woolen socks, gloves, neck gaiters, and woolen beanie for maximum protection.
Getting the dress right is even more important if your tent is not winterproof or you are not sleeping in your car during the night.
How to dress for winter camping – Challenges
Wearing the right kind of clothes is a matter of survival. You can't just put on whatever you have at home and be good to go. You might think layering up is the best solution to fight the cold but that's not the full answer. You need to consider several other factors as well.
Below are a few things you have to keep in mind before you select your dress for camping in the snow.
Chose the right material
Not all materials are equal when it comes to fighting cold.
This is often the most overlooked factor. As newbie campers, we often think that heavy layering would protect us from extreme cold in the wild. Which is not completely true. You have to choose the right kind of material for every layer (there are going to be multi-layered dressing. More details coming up below)
Understanding the purpose of each layer and choosing the right and comfortably appropriate layers only can save you from the nerve-wracking cold at the winter campsite.
Select the right size
You may have heard campers claiming that they wore a pair of warm socks or gloves, but their feet remained cold, and even after layering of socks, they still failed to warm their hands or feet up.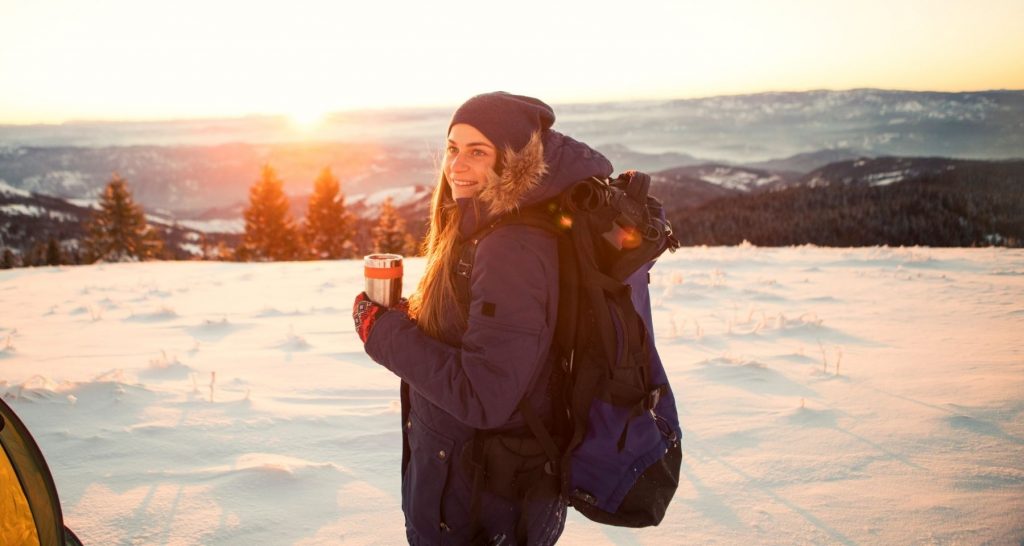 This usually happens when you restrict the blood flow with tight clothing. Our blood is the prime distributor of body heat to distant parts like our feet and hands. If the flow is restricted with tight clothing, these areas are going to be cold no matter how many layers you wear.
The clothes don't warm up your body. They just retain the body heat. If any of your body parts are cold due to low circulation, the clothes have no heat to retain no matter how many layers you are wearing.
Make sure you don't restrict blood flow with tight clothing EVER.
Temperature Regulation
Another challenge that most campers face is to understand the how human body regulates temperature. Too hot inside your layered clothing can ultimately leads to being cold.
Let me explain.
Your body needs to maintain its normal body temperature. If your layers fail to keep you warm, you'll obviously feel cold, BUT if your layering ends up making you feel hot, your body's natural temperature regulation will kick in and you will sweat. The sweat – which is basically water – will cooldown on your bare skin (if you are not wearing a wicking layer) and you will end up even colder.
Your main challenge is to understand how many layers your body needs and when to shed the ones that are over-heating your body.
Selection of clothing – weight
Another challenge is to manage the weight of your clothing. With all the layers to keep you warm, you can end up like Joey from FRIENDS.
Heavy clothes are not always the warmest clothes. So, it is important to consider the weight factor while selecting your layers. You will be wearing these clothes for hours and will probably be hiking or trekking in them.
What to wear during winter camping?
Now that you know the different factors that can affect your choice of winter dressing for your camping trip, let's go into detail and discuss the best options to dress properly for the cold.
#1 Wool beanie and neck gaiters to cover your head  
First things first, you often overlook the fact that your head needs protection too.
Your hat or headcover will not only keep your ears or face warm, but it'll also keep your body warmer. You often end up cold because you lose heat through your head when you cover all of your body in layers and leave your head and face exposed.
Most people get frostbite during winter camping not on their hands or feet but on cheeks, ears and nose because these are the parts usually exposed or insufficiently covered.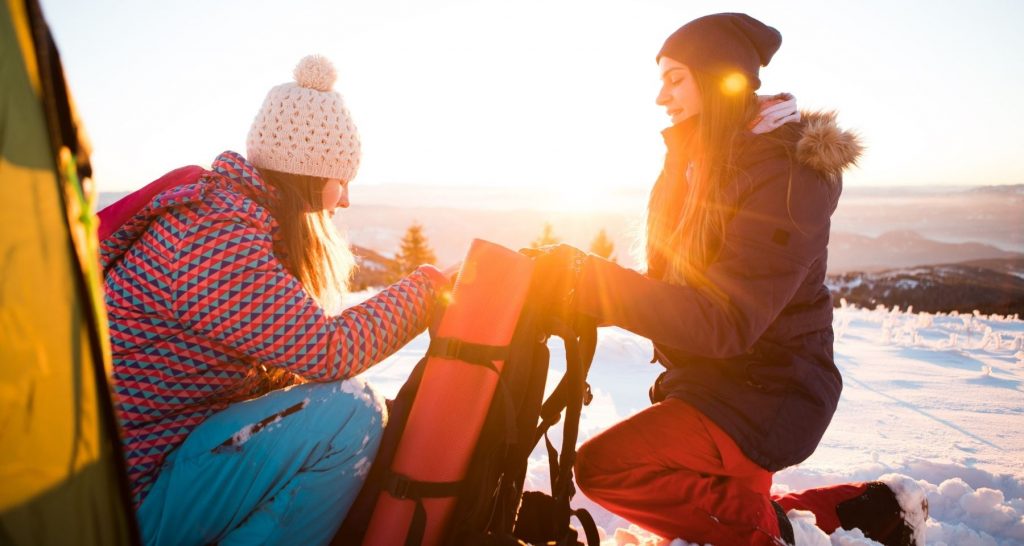 Having said that, it's also a fact that your face does not need as much protection as your body when in cold. You do not need to cover every square inch of your head completely inside an insulated tent or car. All you need there is a woolen beanie, neck gaiters, or a woolen muffler.
Pro Tip: If you feel like any part of your face is getting colder than your body or head, cover it up instantly to avoid frostbite.
In case you plan to go out in the snow that's where you cover your face completely. While going out, you do not only need neck warmers and hats but balaclava and goggles as you also need to avoid cold blisters.  
#2 Three layer clothing to retain body heat
More layers of clothing mean more dead air traps around your body to retain the body heat. But the problem is, with more layers, comes more weight. We have to optimize what we wear to be warm and cozy while still being able to move around without all the weight dragging us down.
Depending on the weather, the minimum is three layers to be comfortable and enjoy the adventure. Do not even think about it making it lesser than three.
The three layers are inner, middle, and outer, all these are equally important, and each one has a different function to keep you warm and cozy.
The inner base layer
Main Function: Wick away body moisture
The main function of the inner layer is to wick away body moisture so that you don't feel cold after your body moisture condenses on your bare skin. This is the most important layer and the material selection is of the essence if you want to keep your body dry and warm.
Always go for an inner synthetic or woolen thermal underclothing for the innermost layer. It is basically a full suite consisting of a full sleeve t-shirt and pajama.
Wool and synthetic fabrics are good moisture absorbers and wick the sweat through their capillary action. If the body moisture is not wicked from the skin, the water makes you feel even colder and damper.
On the other hand, cotton is the worst material that you can wear as an inner layer. It has the highest thermal conductivity and almost zero moisture-wicking capability.
Product Recommendation: My two favorite brands are Meriwool & Smartwool. They both make great base layers from 100% Merino wool for both men & women.
The Middle Layer
Main Function: Retain body heat
As I mentioned before no layer is to be considered any less important than the other. Every layer has its own function.
The purpose of the middle layer is to limit heat loss from the body so you stay warm and comfortable. The property we are looking for in a good middle layer is a bad heat conductivity.
A merino wool sweater, or a fleecy under layered jacket makes a good middle layer. Basically, anything you wear in the middle should be puffy with a lot of dead air pockets (air is very bad conductor of heat)
To understand why wool or polyester makes a great middle layer, we need to understand the concept of the thermal conductivity of the fabric.
Thermal conductivity is the ability of any material to let the heat pass through it. To be warm and cozy, we need a middle layer that is a BAD conductor of heat. From the table below, you can see that wool and Polyester have the lowest thermal conductivity values hence they make great middle layer materials to retain maximum body heat.
| Material | Thermal Conductivity (W/M.K) |
| --- | --- |
| Cotton | 0.243 |
| Wool | 0.165 |
| Nylon | 0.171 |
| Polyester | 0.157 |
The only drawback of a wool sweater is it gets heavy when wet, and hence gets very uncomfortable when you are at a place where the only heat source you need to dry a mid-layer is your body itself. This is why the fleecy jacket, which is made up of absorbent material, is preferred as it absorbs well and dries easily.
Product Recommendation: Arc'teryx makes great outdoor clothing. I would recommend their hardshell pants and Delta LT Fleece Hoody.
The Outer Layer
Main Function: Break the wind and provide waterproof cover
The main function of the outer layer is two fold – it provides waterproof covering to the inner layers and also act as a windbreaker.
The outer layer has to be warm inside and hydrophobic and water repellent or DWR finished from outside, as you may come across snow or rains. A good outer layer makes sure you are protected against the wind and rain and will be your first line of defense against any adverse weather conditions.
Product Recommendation: If you are wearing a puffy middle layer, you can go with a hardshell Arc'teryx Rush. But if your middle layer is thin, I would recommend something with an extra puff like the Wantdo Snow Jacket.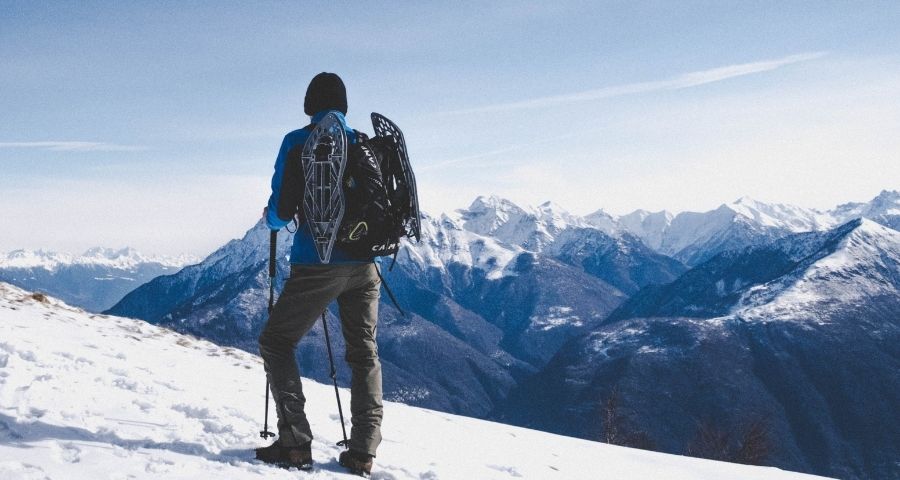 #3 Woolen socks and feather down booties
Your feet are the most crucial part to take care of during winter camping. Being away from your heat, they often get poor blood circulation and hence are colder than your other body parts. Whatever heat your blood supplies there, should be protected to avoid cold.
First of all, select socks that are good at wicking moisture away from your skin just like your base layer we discussed above. Merino wool socks is great at that and is an obvious choice to go with.
If you are not wearing waterproof shoes, I would recommend covering your socks with a polythene bag before putting your feet in the shoes. The polythene makes sure no water seeps into your socks as it is very uncomfortable. This is specially useful if you are walking in ankle deep snow.
Feather-down booties are the best when worn in combination with loose woolen socks. These booties keep your feet comfortable, helps you in walking comfortably, and can even be worn inside your sleeping bag. The goose or duck down insulation with nylon layer is indeed what your foot needs in suck low temperatures. You can also wear them to bed for extra warmth if your tent is not properly insulated.
If your boots are not roomy enough for feather booties, you can also get an additional pair of boot liners made from polyester to put them over your woolen socks for maximum heat retention.
Product Recommendation: Darn Tough makes great outdoor socks from merino wool. For booties, I would recommend Free walker Ultralight and if you are going for boot liners, check 281Z Military Warm
#4 Use woolen gloves to protect your hands
Just like your feet, your hands need extra covering too. Your finger tips tends to get cold because of their distance from heart (low circulation) and extra exposure to the cold.
Woolen or polyester gloves are the way to go. The Outdoor Research (OR) Outliners are great for this purpose. Made from polyester, they are naturally moisture-wicking and also compatible with touchscreens if you want to use your phone while wearing them.
Arc'teryx also makes good gloves. Check out their Alpha SV series gloves to protect your hands. They are a little pricy compared to the OR liners but totally worth it.
Complete Winter Camping Dressing – Checklist
Winter camping dressing checklist
Conclusion – How to dress up for winter camping
To dress appropriately for winter camping, we have to understand the concept of layerings. The inner base woolen layer helps wick off body moisture. The middle layer retains body heat and the outer layer to break the cold wind and protect against rain/snow.
Remember the rule of thumb; For warm and safe winter camping, Cotton is BAD. Wool & Polyester layers are GOOD.
If you dress up properly for the chilly outside, you will be having the best time of your life in the snowy winter campsite.
Recommended Camping Gears: I have compiled a list of my favourite camping gear in one place. The selection is based on my own personal experience using them for many years camping as well as feedback from fellow campers. Check them out on my Recommended Camping Gears page