Camping without a campfire doesn't sound like much fun. One of the main reasons I get out there in the wild is to sit around a blazing campfire with my buddies or family and enjoy stories, share laughter, and have a good time.
But sometimes, there are fire bans (also known as burn bans or open fire restrictions), especially during the dry summer season, so you can't make an open flame fire. Bummer right?
But it's not the end of the world. Below are a few campfire alternatives during fire bans that you can use while camping in the wild:
Propane firepit: Use a propane-powered firepit as a close alternative to an actual wood fire.
Propane Grill: A propane grill can also be used to mimic a campfire with the same warmth and vibe
Portable Campfire: A portable campfire made of soy wax and paper briquettes (highly recommended)
Camping Lantern: Portable lantern is great for lighting and sitting around for a game of cards
Propane stove: A Propane stove can provide warmth for a couple of people gathered around.
Tiki torch: A tiki torch can give you a feel for a campfire without violating a burn ban.
Let's look at these campfire alternatives in more detail, the pros, and cons of each, and the best way to use each one of them to mimic an actual campfire.
What is a fire ban?
Fire bans or burn bans are restrictions on the open flame burning of wood to help land management agencies reduce fire risk and prevent wildfires during periods of high or extreme fire danger, especially during summer dry seasons.
If you read the guidelines that enforce a fire ban, you will notice that the ban is only on open-flame fires made from burning wood. You are actually allowed to use petroleum-based fuels like Propane to make a fire.
This exception makes it possible for us to use different devices that operate on fuels other than smokey wood.
"People can still use petroleum fueled stoves, lanterns and heating devices anywhere."

National Interagency Fire Center – NIFC
With this caveat in mind, let's look at different alternatives to a campfire that we slightly mentioned at the start of the article.
⚠️ IMPORTANT NOTE: Information in this article is based on state and county websites regarding fire bans. These regulations can change or update at any time. Please check the latest updates from the county you are camping in to avoid any violation.
Campfire alternatives during a fire ban
Propane Firepit
This is probably the closest you can get to an actual campfire. A portable propane-powered firepit is a round-shaped enclosure filled with lava rocks.
The propane gas is fed from under the rocks, and it burns like an actual campfire.
Since the fire ban is on a wood fire in most areas, you can get around the ban by using this propane firepit.
Most people carry small propane cylinders for cooking and heating purposes, and you can use the same to fire up the pit.
Depending on the BTU ratings, the 16oz propane cylinder can last a few hours, enough for an enjoyable evening. You can also hook it up to your 20lb Propane tank if you are camping in a car or RV.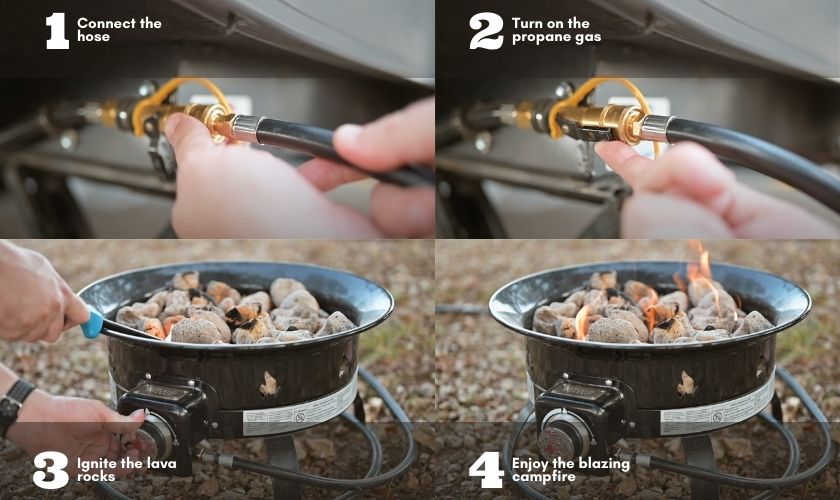 Benefits of Propane Firepit:
They are quite portable. You can carry them around in their own bag, which normally comes with the pit.
Unlike an actual campfire, the propane pit fire is precisely controllable. You can turn it up or down as you wish.
It's really easy to start a fire. You can turn it ON or OFF instantly. No blowing your lungs out trying to start the fire.
Compared to a woodfire, a propane pit fire is smokeless, so no teary eyes for people sitting on the opposite side of the wind.
Propane is environmentally friendly so you won't be contributing to soot pollution by burning it. That's one of the reasons it is allowed during burn bans.
From a safety point of view, there are no sparks involved, so it's quite safe compared to a wood fire. You can easily use it during dry seasons with minimal risk of fire hazards.
It follows the 'pack in, pack out' philosophy of camping. You don't leave any mess behind.
You can also easily cook things or boil water on them. Just put a suitable grill on it, and you will be good for cooking. Avoid fatty items because the fat can melt and leak into the lava rocks thus contaminating them.
You can even use it during a rainy day where you can't find any dry firewood or dry place [how to start campfire in rain]
Cons of Propane firepit:
Well, its not an actual campfire. As much as we try to avoid the smoke and the smell, that's what makes the campfire an experience.
You still have to carry an additional piece of equipment around, which can be problematic, especially if you are backpacking.
If you run out of firewood, you can collect some in the nearby woods, but if you run out of Propane, no campfire for you. [Read: How much firewood do you need for campfire?]
Recommended Propane Firepit
You can find a number of companies making great propane firepits. I would personally recommend the one from Outland Living called Firebowl (kind of a fitting name. don't you think?). You can check it here on Amazon.
Propane Grill
A propane grill is basically the same as the firepit discussed above, but it is primarily intended for grilling than making a campfire. However, if you are not carrying a firepit, you can use your grill as a makeshift propane firepit without violating the fire ban.
Remember, anything that is not burning wood and is smokeless is exempted from burn bans by most counties and states.
So, you can grill your steak and, afterward, turn the same propane grill into a nice campfire.
A propane grill is often in the same price range [click here check latest grill prices] or even more affordable compared to most of the propane firepits that I have checked, so you can save some money and use some equipment for multiple purposes.
Portable Campfire in a tin
Oh, man! This one is my favorite. Imagine carrying a portable firepit in your backpack – no heavy steel equipment, no propane gas cylinders, nothing.
Just a tin the size of a Danish cookie tin (or the one grandma uses for a sewing kit) and weighing less than a pound. Amazing, right?
These portable campfire tins are made from soy wax mixed with paper briquettes to produce a smokeless flame that can burn for hours and hours.
Consider it a very large candle with an actual look and feel of a campfire.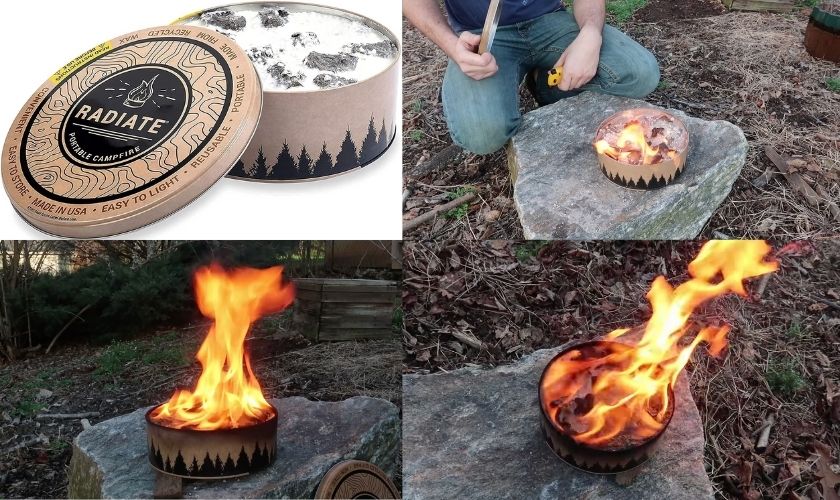 The wax is actually scented so there is a nice aroma around the fire which can be a good deterrent for certain insects (it can be a good repellent for mosquitoes in the summer).
Personally, I would have preferred something more natural or neutral to make it closer to actual firewood.
Another thing is that I wouldn't recommend cooking something over the flame as it will absorb all the scent and wouldn't be fun to eat. I usually roast marshmallows over a campfire, but I image this will ruin the taste.
However, the smell can be a great spider repellent and will keep spiders away from your camp area while it burns.
RECOMMENDATION: If you are going to give this a try, I would recommend getting it from a company called Radiate (the one in the pictures above). It is a US-based company and makes 3 different types of tins. Check them out on Amazon
Camping lantern
Campfires are not only used for social gatherings and having a good time, but it is also used to provide lighting at night for those sitting around them.
If you don't have any of the above options, your next best bet is to use your camping lantern to emulate a campfire.
It might not be as warm and blazing, but it will certainly light up the area to sit around and have a few drinks and share ghost stories.
The smell of the burning fuel creates an ambiance close enough to a wood fire. You can put the lantern on a tabletop to sit around or hang it overhead.
If you are camping in a large group, you can put together a few lanterns for a larger gathering.
If you are not carrying an actual fuel lantern, you can do the same with an LED-powered lantern. It provides the same amount of light to sit around minus the sweet smell of the burning fuel and a little heat from the flame.
Propane stove
Most campers carry a propane stove for cooking and lighting. Most of them are small adapter types that fit on top of the small 16.4 oz propane tanks sold by Coleman or other brands.
Just like the traditional gas lanterns, these Propane stoves can be used as a substitute for a campfire.
One of the advantages of propane tanks is their multifunctional nature. You can carry a single propane tank and use it to power up your single stove burner (like this one) or a gas lantern (like this one).
The good news is that you can use both the stove and lantern as an alternative to a campfire. The trade-off is between more light and more heat.
Tiki Torch
The last alternative to a traditional campfire is using a Tiki torch. A Tiki torch is basically a pole-mounted open flame torch mostly used in the backyard and patio to create a good ambiance to sit around.
It originated in the Tiki culture of mid-20th century America hence the name.
You can put a few of these torches around your camp or put them on a center table or any big flat stone to sit around and emulate a campfire environment.
They don't produce much heat or light, but they certainly have that sweet burning smell we all crave for.
The flame does attract a lot of flying insects so you will be exterminating dozens of them by the end of your night.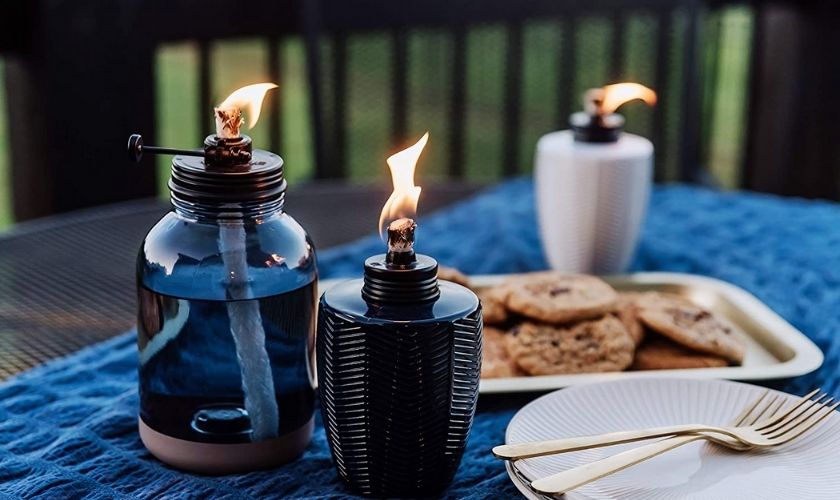 There are a lot of options to buy Tiki torch both on Amazon and in any other departmental or hardware store. They are pretty common. I recommend this one from Amazon.
When I was young, we made these torches from empty pill bottles made of glass.
We would half fill the bottle with Kerosene oil, make a hole in the cap to pass a cotton or cloth strig through to act as wicking material, close the cap, and light up the end of the wick material.
You can find a few good tutorials on youtube to make your own DIY Tiki torches from material readily available on the campsite (bottles, wick material, liquid fuel, etc.)
How can I check if there is a burn restriction in my area?
Burn bans or burn restrictions are pretty common during the dry summer season when the chances of wildfire are high.
Most states have interactive maps that provide up-to-date information about current burn restrictions (see an example of such maps for Colorado below).
The easiest way to check is to go to Google and type "Fire restriction + <name of your county/state>" The first result will probably be from your state government.
From there, you can find the area you are camping in and get the latest information. All government websites have a helpline number so you can call up and confirm if you are still not sure.
How to cook during fire ban camping?
If there is a burn ban in your camping area, you won't be able to use wood fire for cooking as well. The fire ban is not only for large campfires; it also applies to smaller ones.
Basically, you can't burn wood during the fire ban. So, in such a scenario, how can you cook your food or make your coffee?
If you already know about the fire ban (hopefully), before leaving for the campsite, make sure you either take a propane stove with you or take one of those MRE packages used by the military.
If you carry a stove, you can also precook and vacuum seal your food at home so that you have to spend less time and fuel at the campsite.
How do you prepare for a fire ban camping?
If you are going to a campground knowing there is a fire ban, you will have to take care of a few things to prepare yourself.
Pack a propane stove or precooked food or dry food, because you can't cook on wood fire.
Take warm clothes with you to compensate for the absence of fire at night.
Take suitable mosquito repellent for mosquitoes and other bugs during the summer season.
Pack a light lantern, either electric or kerosene powered, to light up your campsite.
Carry a deck of cards or books to read under the night sky by your lantern.
Install Stargazing App on your phone to pass the time staring at different stars during the clear night.
Summary – campfire alternatives during a burn ban
Campfires are an essential part of any camping trip, but during the mandatory fire bans, one has to make do with DIY fake campfires.
They can be fun during cold winter camping as well. As discussed above, you can use propane campfire pits, propane stoves or grills, or even candles and wax tins to make. your "fire-less" nights a little more bright and cozy.
Recommended Camping Gears: I have compiled a list of my favourite camping gear in one place. The selection is based on my own personal experience using them for many years camping as well as feedback from fellow campers. Check them out on my Recommended Camping Gears page