We all love Crocs around the house as well as during a camping trip. After a long day out wearing heavy boots, you can just relax in lightweight and breathable Crocs at the campsite. Your feet can finally be free from the confines of closed shoes. As great as crocs are, some people wonder if they can go hiking in crocs.
Crocs are great shoes for relaxing, but you can not go hiking in them easily. They are comfortable & breathable for normal use at home or campsite but not suitable for hiking, especially on long thru-hikes. They are slippery when wet, have a thin sole & open holes, provide little ankle support, and have low ground traction.
With that being said, some hikers do use Crocs and you will even find diehard crocs users who would swear to hike in them regularly.
So, let's find out the pros & cons of hiking in crocs and if you should replace your expensive hiking boots with cheap crocs.
Why are Crocs so popular?
Crocs are not the best-looking footwear out there but they surely are the most comfortable and laid-back option.
No matter you are inside your house, in the backyard, or even outdoor camping in the woods, you can put on your crocs and just relax. You don't have to struggle to put your feet in, you don't have to tie any laces, and you don't have to worry about them getting wet or dirty.
They are the symbol of a laid-back and relaxed lifestyle (much like the flip-flops). That's the reason they are hugely popular among men.
I have been wearing crocs not only in my home, but I always take a pair out on camping trips. I always wear them during the evening when I come back to the campsite after a day out. I can finally take my heavy shoes off and put on those lightweight crocs to relax.
Can you go hiking in crocs?
No one will dispute the claim that they are the most comfortable footwear humans have ever made. However, going hiking wearing crocs is quite debatable.
For most people, the idea of hiking in crocs with holes and thin sole is horrifying. They won't believe you if you tell them you have hiked a trail in crocs.
On the other hand, I have seen people doing long hikes in crocs without any issue. They actually claim to enjoy them more compared to more specialized hiking boots.
If you go to any camping or hiking community online, you will see people debating the pros & cons of hiking in crocs. You will see diehard fans of crocs hikers. Although in the minority, some claim to have hiked Appalachian Trail (AT) entire crocs.
I have done short hikes (5-8 km) wearing crocs and here is what I think: You are more likely to like hiking in crocs if you give it a try on short hikes where the terrain is not difficult (no muds, slippery rocks or too much slope).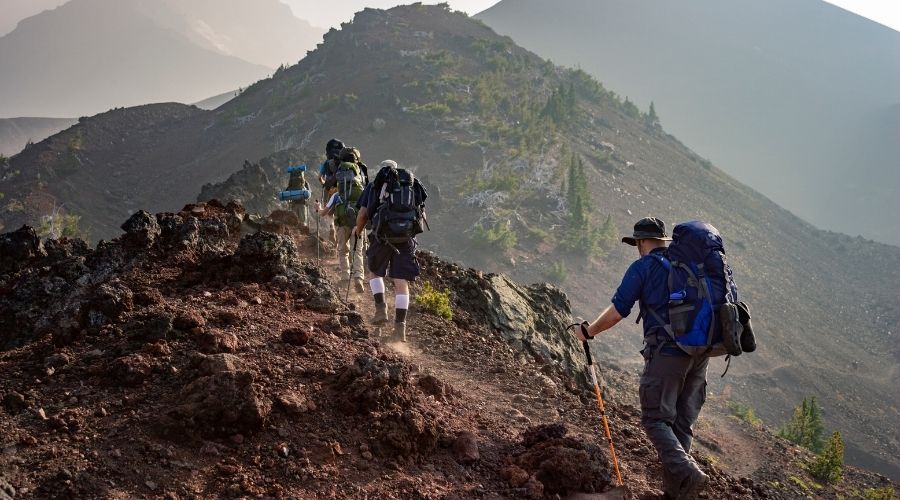 But for longer hikes, you will most certainly end up with blisters or risk tripping in adverse terrains. So if you are going to try crocs on your next hiking trip, I would highly recommend starting small and testing the waters first.
It is a general rule of thumb among campers and hikers to never hike in brand new shoes. You don't know how the shoes will treat your feet, and once you are on a long road away from any supplies, you can't afford to be stuck with blistered feet.
Same is the case with crocs. Take an extra pair of regular hiking shoes along and see if you can get through the entire hire wearing crocs. If you find them slipping or blistering your feet, you can take them off and put on your regular shoes.
Below I am discussing the major advantages and disadvantages of hiking in crocs.
Advantages of hiking in crocs
Most people consider hiking in crocs a bad idea without even giving crocs a chance. Although you cannot replace your regular hiking boots with crocs, especially on longer, tougher hikes, crocs can still be considered an easy and affordable option.
Here are a few advantages of hiking in crocs when doing short distances.
Crocs are comfortable
There is no doubt about crocs being the most comfortable footwear you can wear out there. They are made from soft closed-cell resin or EVA foam called Croslite.
They are super comfortable because EVA foam can adjust its shape under the pressure of your feet. It's like having a shoe custom-made to perfectly fit the unique curvature of your feet.
Where other shoes just approximate the shape of your feet, crocs made from EVA foam fit the shape and curvature of your feet perfectly to give you the ultimate comfort.
Breatheable open design
Have you been on a long hiking trip and ended up with blisters because you have sweaty feet and the socks you were wearing with your hiking boots were not sweat-wicking? I have been, and it's the worst that can happen to you on a trail.
Sweat happens when you wear closed shoes and there is no flow of air inside your shoes to dry the mosture and your socks are not wicking enough of it.
Crocs have holes and they are really breathable. The additional holes on the face and sides allow air to flow across your feet and make sure you never end up with sweaty feet.
They are cheap compared to hiking shoes
Hiking shoes are not cheap. If you check the average price of hiking boots on Amzon, it will be well around $100. That's quite an investment specially if you are not a regular outdoorsy person and just going on a one off trip.
On the other hand, crocs are quite cheap (check price on Amazon). In fact, they are almost 50% – 70% cheaper than the average hiking boots.
If you want to go on an easy hike and don't want to spend a fortue on expensive hiking shoes, crocs can be a good alternative.
Good for water crossings
You cannot cross a water body wearing your normal hiking shoes. If you come across a river or drain that you can't jump during the hike, you will ultimately have to go through. If you are wearing regular hiking shoes, you have to take them off.
Either that or risk getting your shoes, socks and feet socked for the rest of the trip. Wet feet are perfect recepie for blisters. Water can also destroy your shoes if they are made from leather (leather cracks when get wet)
But if you wear crocs, you don't have to worry about water crossings. You can cross the water without any fear of wet feet or blisters. Your feet and crocs will dry within 5 minutes, and you will be on your way all dry and happy.
Crocs don't smell
I'm not too fond of smelly feet. It annoys everyone at the campsite when you take off your smelly shoes and put them anywhere near the tents. Shoes smell because they retain all the sweat and make a nice cozy home for bacteria to grow inside.
Crocs don't retain water and hence a barren land for smell producing microorganisms. Even if you wear your crocs for all day long, they won't smell at the end of the day.
Lightweight
We talked about the one aspect of comfort that crocs offer – the EVA foam that aligns itself. But that's not all. Crocs are also super lightweight and won't drag your feet down with every step.
An average crocs pair weight just around 14 ounce or 400 grams. That is not only good on your feet, its also great for your backpack and shoulders.
With the additional weight you just saved by replacing your heavy shoes with crocs, you can maybe carry additional water or put in some more just-add-water meal packs in your backpack.
Disadvantages of hiking in crocs
If you read the above section, you must be thinking 'hey crocs are great' why don't every hiker and camper wear them on their trips.
As great as crocs are, there are certainly some limitations and disadvantages of hiking in crocs. Especially if you are on a long hike, these disadvantages will limit your choice to regular shoes only. Here are some cons on wearing crocs on long trails.
Crocs are slippery when wet
Although they dry soon, crocs are very slippery when they get wet. If you are hiking through a terrain that has many water bodies like drains and creeks, you might have difficulty hiking wearing crocs.
EVA foam is quite notorious for its low friction, which ends up making it very slippery when wet. Slippery crocs can be dangerous, especially at higher altitudes and slopes. If you are hiking in crocs and get your feet wet, it's best to wait and rest for a few minutes till the water dries up.
You can also get water-friendly crocs that are designed to get water away through wider ports on sides. Unlike normal crocs, they don't retain water at the bottom of your feet.
Crocs have open holes
Crocs are comfortable because of open holes and the easy airflow through these openings. While they make crocs great for normal use, they are not so great if you are hiking through a rough terrain.
During hiking, you need your feet to be protected from sharp stones, pebbles, dead tree branches, and dead leaves. All these things can not only annoy you during your hike, but they can also injure your feet.
I am especially annoyed when a small pebble gets through the hole and ends up beneath my mid arch area. I can't shake it off, so I have to sit down and take the crocs off to remove the pebble.
Low grip on ground
As crocs are designed for indoor and mild outdoor use, they don't come with a great grip on the ground.
Regular hiking shoes have rubber soles with wedge type cuttings on the bottom to give it a firm grip on the group. Rubber is known for its high surface friction against most materials.
On the other hand, the EVA foam sole on crocs has very low surface friction against most material, and when it gets wet, it gets very slippery not on foot but also on the ground. If you try to walk on a muddy surface, you are almost guaranteed to slip and fall.
Crocs have thin sole
The sole of any shoe provides an adequate cushion against ground irregularities. If you wear shoes with a thick sole, you can walk on uneven surfaces more easily. But if the sole is thin, you can feel the pinch of pebbles and other shape rocks on your feet.
All Crocs are not very cozy in their design. They are adequate to walk on a concrete floor or on even grassy campsite, but if you are going to hike with them on a rough trail, you are will end up with sore feet.
If you want something a bit more rugged, you can get the Classic All Terrain crocs that have rugged outsoles with enhanced threads for extra hold on the ground.
The below table summaries the our discussion about advantages and disadvantages of wearing crocs on hiking trips.
| | |
| --- | --- |
| Advantages | Disadvantages |
| Very comfortable on short hikes | Slippery when wet |
| Breathable open design facilitates air flow | Open holes attract pebbles and leaves |
| Affordable compared to hiking shoes | Low grip on the ground |
| Dry quick. Good for water crossing | Thin soles are bad on rough terrain |
| Don't smell due to open design | Don't last long on long trails like AT or PCT |
| Lightweight & easy to carry | |
Hiking in crocs – pros & cons
FAQs – Hiking in crocs
Are Crocs Good for Your Feet?
Crocs are made from EVA foam that adapts to the unique curvature of your feet. The upper section is designed with wide openings to permit flow of air. Both these properties make crocs very good for your feet.
Are Crocs Good for Walking All-Day?
It depends on the terrain. If the surface is smooth and levelled, crocs are good for walking in all day. They are very comfortable due to the adaptive EVA foam which makes them an excellent option for walking in all day.
What are the Best Hiking Crocs?
You can get the classic All Terrain crocs as they are designed to with rugged outsole with enhanced threads for additional support and ground grip.
Are Crocs Worth it?
Crocs are very affordable. If you are going to sit around the campsite or in your backyard, there is no better and comfortable footwear than crocs. Even for short hikes, some people prefer Crocs and they are totally worth the money.
How Much Do Crocs Weigh?
Crocs are made from EVA foam material which is famous for its lightweight. A normal adult pair of crocs will weight less than 14 ounce (400 grams). They are so lightweight that they can easily float on water.
Can You Wear Crocs Barefoot?
Crocs are best to wear barefoot to take advantage of their open design that facilitates air flow. The airflow keeps your feet dry and you don't feel the sticky sweat you feel in your closed shoes.
Are Crocs Good for the Beach?
Crocs are the perfect shoes to wear on the beach. They are lightweight so they don't drown in water. They dry very quickly and if you get sand in them, you can just wash them and put them back on.
Can You Use Crocs As Water Shoes?
You can definitely use crocs as water shoes. They are made from waterproof EVA foam that dries very quickly when wet. Being lightweight, they float on water so if you lose a croc in water, you can be sure that it will flat to the surface.
Recommended Camping Gears: I have compiled a list of my favourite camping gear in one place. The selection is based on my own personal experience using them for many years camping as well as feedback from fellow campers. Check them out on my Recommended Camping Gears page