A hammock is an essential component in most camper's packing list. If you like hammock camping and use it regularly in place of a tent or sleeping pad/bag, you might have noticed that after some time, your hammock gets dirty and smelly and needs a wash.
You obviously would not prefer sleeping in a hammock filled with mold and mildew? Right? It has to be properly cleaned and washed periodically to keep it usable.
So, how to wash a hammock? You can wash a hammock in a large bucket, a bathtub, or any other spacious basin, depending on the fabric. You can even use any washing machine with cold water and delicate fabric setting and 1-2 ounces of detergent or liquid soap. Nylon hammocks can be cleaned in a washing machine but, canvas hammocks require hand washing with warm water and detergent to avoid pilling or damages.
Washing your hammock from time to time does not only increase its life but also makes it safer and healthier to sleep in.
It not only soaks your sweat but also catches dirt, dust, bugs, and other bacteria present in the wild. But worry not! I will tell you some easy ways to clean your dirty hammock in no time!
To wash your hammock, you must know what to do and what not. If you use certain chemicals, hard bleach, or the wrong detergent, you may end up destroying its strength, color, or finishes. But this article might save you from that!
Best methods to wash a hammock
You can wash your hammock either with hands or with a washing machine. Both methods are safe and you can use either depending upon time constraint and availability of washing machine.
For Mayan hammocks made of soft cotton fabric and nylon threading, it is best to wash it in an open ground on a sunny day, with any mild detergent and a soft-bristled brush, and then let it air dry.
Avoid using bleach so that your fabric's integrity is not compromised. Most fabric manufacturers have a label attached with basic washing instructions including if you can bleach wash it or not.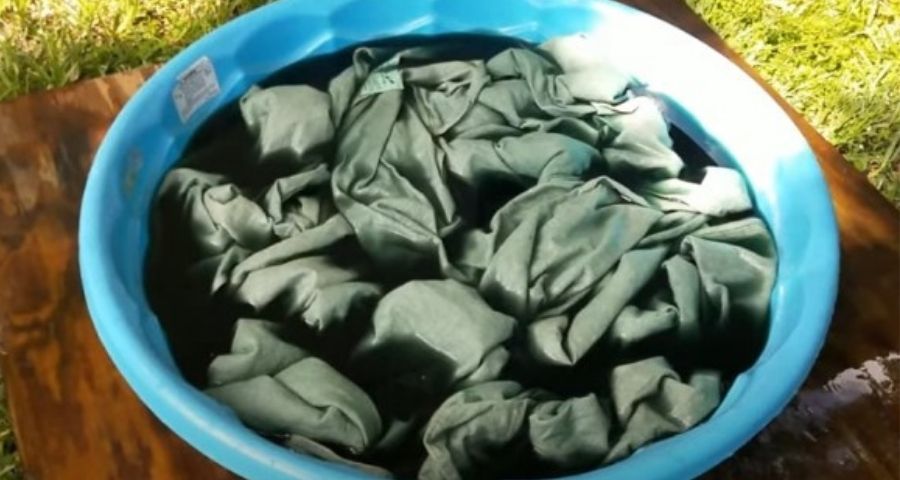 If you feel like it's too time-consuming, you can wash it in a front loader machine with mesh to cover it and then, wash it at delicate cycle or usual lingerie settings. Machine washing can also be used for Brazillian hammocks normally made of 100% cotton.
Why front loader machines? Because they clean fabric with more sensitivity than top loader machines. Top loaders tend to be harsh on fabric which can cause a hammock to loose strength.
Step-by-step guide to clean a hammock?
To wash your hammock, you need to follow these easy steps to ensure better cleaning
Removing accessories
It is essential to remove all the metallic parts like Carabiners, slings, or removable ropes and clean them separately.   the Washing machine can damage the Carabiners and make them corrode. Carabiners can be washed separately, or even air bowed to clean.
Soaking
Soaking isn't required if you are planning to use a washing machine. But, soaking can help a lot with handwashing.
Soak your hammock in cold or warm water with ropes 30 minutes before washing. It softens the patches of dirt and makes it easier to remove afterward.  
If your hammock shows hints of mold or mildew, then make a solution of two to three parts vinegar and one to two parts water and spray it on a hammock for one hour. Then, scrape it off before soaking.
Washing
Whichever way you decide to go to wash your hammock. You obviously need the right detergent. I've been using Tide laundry detergent. It is great for removing all the stains and dirt from the fabric weaves and clean it well.
It is also important to read the washing instructions, that are instructed by the manufacturer itself. Every manufacturer provides its own guidelines that show the best ways to maintain the canvas.
Drying
Never use any dryer to dry your wet hammock. It tends to damage the fabric and can cause shrinkage as well.
The best way to dry a hammock is to either keep it hanging on a rope until it dries through the air, or lay it down somewhere outside the house and wait till it dries.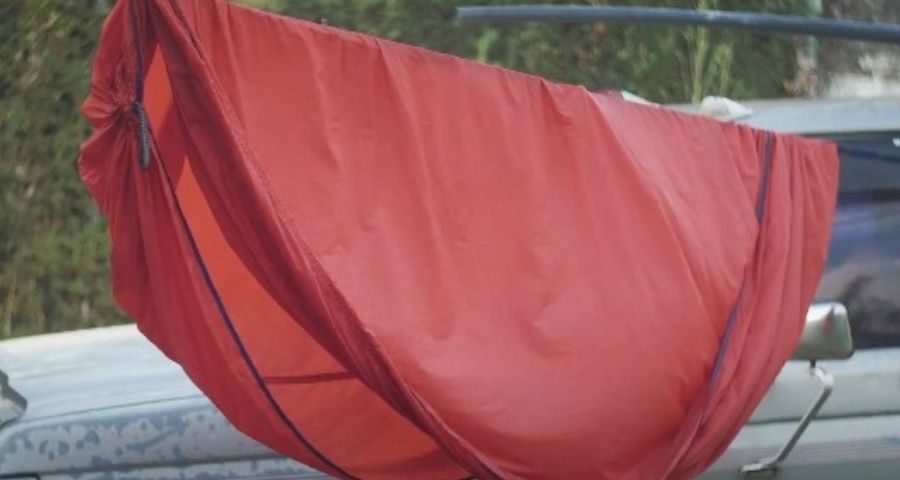 How to wash a canvas hammock?
Canvas hammocks are indeed the best ones for summers, However, they are more prone to dirt than any other fabric.
To clean a canvas hammock, you need to create a mild-warm water solution with any detergent, and baking soda.
Baking soda helps in removing foul smells from the fabric. The best detergent for canvas fabric is Oxi cleaner. It thoroughly cleans the fabric, removes all the stains, and protects the dye.
To clean a canvas, you need to add 1 ounce per 3 liters of warm water. The amount of water depends upon the size of hammock.
After soaking the hammock for 15-20 minutes, you can wither rub it with hands or any soft brush to clean the stains and then air dry.
How to wash a hammock with a waterproof or fire retardant finish?
Finished hammocks are not only more expensive, but they also require more care. If you don't clean waterproof hammocks gently, you will scrape off the finish, and that's something you should avoid.
To clean a finished hammock, it is not necessary to wash it every time. You can gently clean it with a dry brush or cloth to remove all the pollens, dust and, leaves.
You can even dry clean it. Spot cleaning is also a good option for cleaning a waterproof hammock.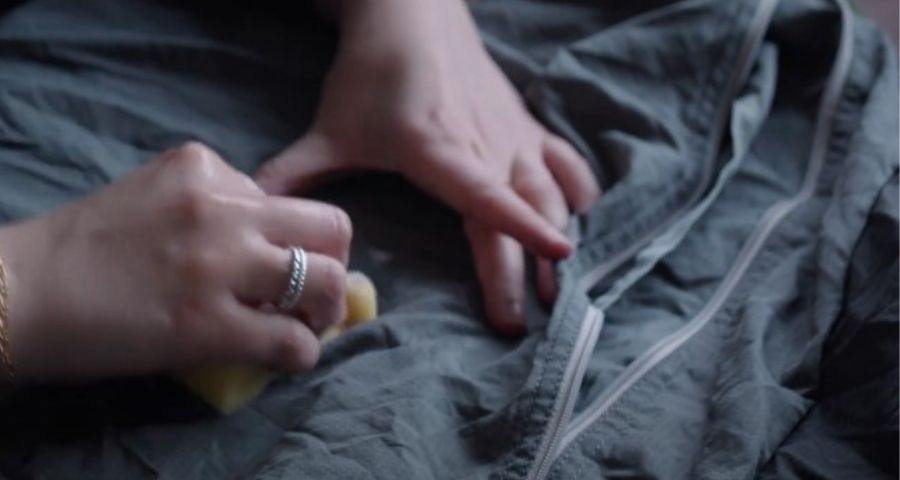 If it's dirty beyond spot cleaning and has to be cleaned thoroughly, then washing it like canvas fabric or in a front loader machine with mild detergent.
What NOT to do while washing a hammock?
The worst thing you can do to your hammock is to apply chemicals that lead to reducing tearing and tensile strength of the fabric.
It isn't very wise to clean a hammock with harsh detergents, bleaches, and softeners to ensure deeper cleaning. The amount of chlorine bleach has can easily destroy the color and other properties of nylon and canvas.
You may think that adding a softener will add a good feel to the hammock, but softeners are bad for fibers are they soften the microfibers so much that they start to form pills. Softeners also stain the fabrics at times.
Is it okay to pressure wash a hammock?
Using a pressure washer to clean a hammock is a good method for cleaning a hammock. However, It is not suggested for coated waterproof fabrics.
Spraying your hammock with hose, spray and cold water can do wonders in cleaning the stuck leaves. pollen and, trash stuck inside the weaves of hammock.
How to clean a hammock with spreader bars?
Hammocks with spreader bars are usually heavier than others. The best way to wash them on the ground with detergent and brushes. Spreader bars allow the hammock to lie straight on the ground, making it easier to clean.
For obvious reasons, you cannot wash it in a washing machine so hand washing is your only option with spreader bar hammocks.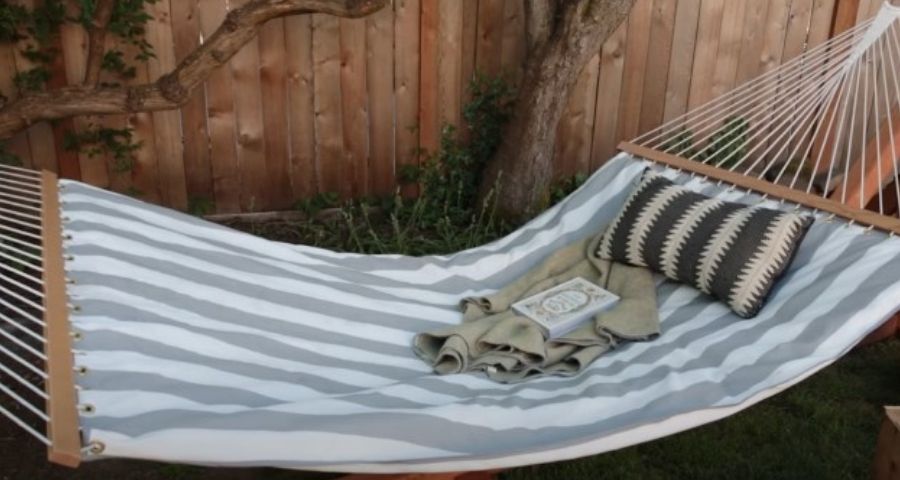 How to clean tying ropes and straps of a hammock?
Hammock ropes and straps are often covered in oil, tree sap and sweat. So much so that it often changes the color of ropes.
To wash rope and straps, you need to put them in a sink. Add any rope cleaning detergent and scrub the whole rope with gentle hands.
Woolite detergents or any mild soap can clean ropes and straps. Woolite helps in cleaning the sap and does not possess any harsh chemicals.
Conclusion
It may feel like a hustle to clean your hammock after a long camping trip because it is rather time-consuming and requires effort. Using the above-mentioned tips, you can easily clean your dirties hammock and make it ready to help you ace your next trip!
Happy camping.
This blog is part of our comprehensive hammock camping guide. If you are new to hammock camping, read the complete guide to get ready for your next camping trip.
Recommended Camping Gears: I have compiled a list of my favourite camping gear in one place. The selection is based on my own personal experience using them for many years camping as well as feedback from fellow campers. Check them out on my Recommended Camping Gears page