Camping has been on the rise for a long time now. Probably because more and more people are trying to get out of their busy city life and enjoy nature.
Part of this is made possible by new and improved camping gear that makes camping accessible to the most reluctant campers now.
Today, we are going to talk about the tent vestibule – a feature that you might not have missed in your old camping tent but it certainly is something useful.
So, what is a vestibule in tent? Let's find out.
What is a tent vestibule?
A tent vestibule is a covered space just outside your main tent canopy – either on the side or at the front.
It is much like your car porch outside your door where you can leave your shoes, camping gear and other muddy stuff that you don't want to carry inside your main tent.
You can also use the vestibule area to cook and pull up a chair to relax.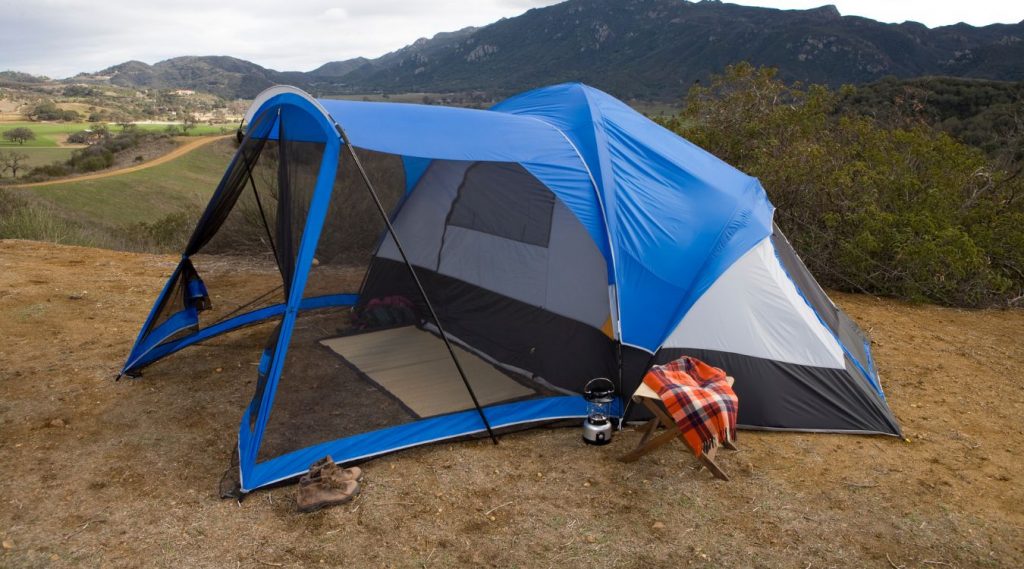 The vestibule is part of your tent that allows you to have the best of surroundings, without feeling trapped inside your closed tent and without feeling the brunt of bad weather.
The shades keep you protected from the scorching rays of sun and sudden rain showers. The open front lets you enjoy the beauty of mesmerizing campsites during good weather.
Types of tent vestibules
There are multiple types, shapes, and sizes of the vestibule. But the most common ones are listed below.
Front vestibule
Front vestibules are the ones that are present at the front door of the tent. These vestibules vary in size in different tent models but they are the most commonly used vestibules for solo camping trips.
You can use the front vestibule to cook, sit and also store your gear. But since they are located at the front enterance, you can't have too much gear without blocking your way in & out.
These are probably the most common kind of vestibule tents and often used by solo campers. They are lightweight due to single vestibule.
Side vestibule
Side vestibules are built into the longer end of your tent. They are more spaceous so you can store your gear and still have sufficient space to get in & out of your tent.
Side vestibules are more common in multi-person tent as they need more space to store their gears.
These types of vestibule tents have two entrances & two vestibules one on either side. You can use one enterance to get in/out and the other side to store your gear.
This is indeed more spacious but a little too roomy for a solo camper. So you will find these types of tents in group campings.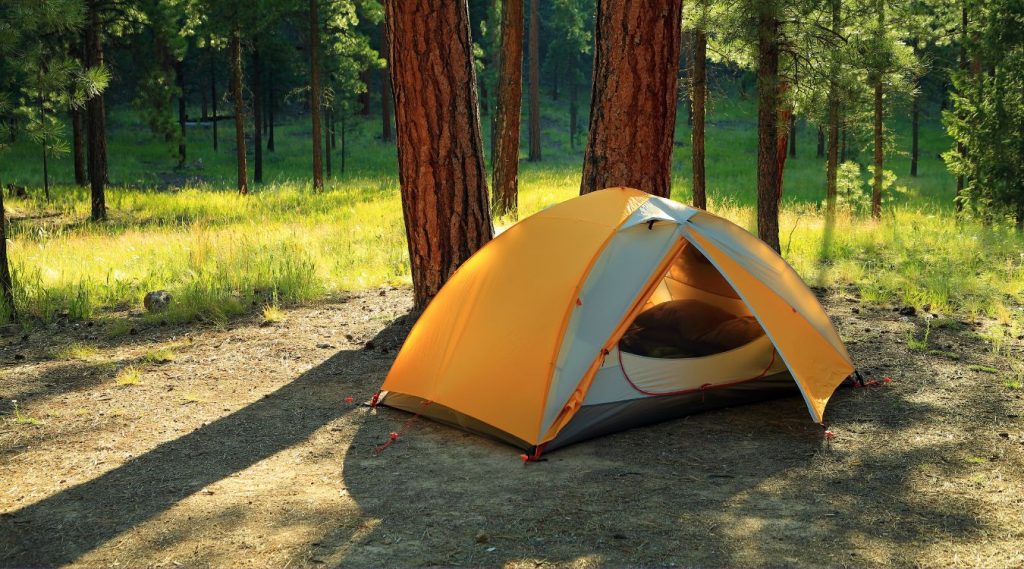 Zipper Awning
Zipper awnings are much simpler than vestibules but serve quite similar purpose. They attach to your main tent body and extand outwards to provide a shaded area.
They are simple to set up and often close down and zip back to your main tent body.
Compared to a tent vestibule, they don't provide a fully protected area because they are open from the sides.
However, they are good for a casual summer camping trip and provide a shaded area to sit, relax and even cook away from scorching sun.
Another benefit of this design is that the awning has a zipper and it can be zipped back into the tent which creates a closed vestibular area to keep your gear at night.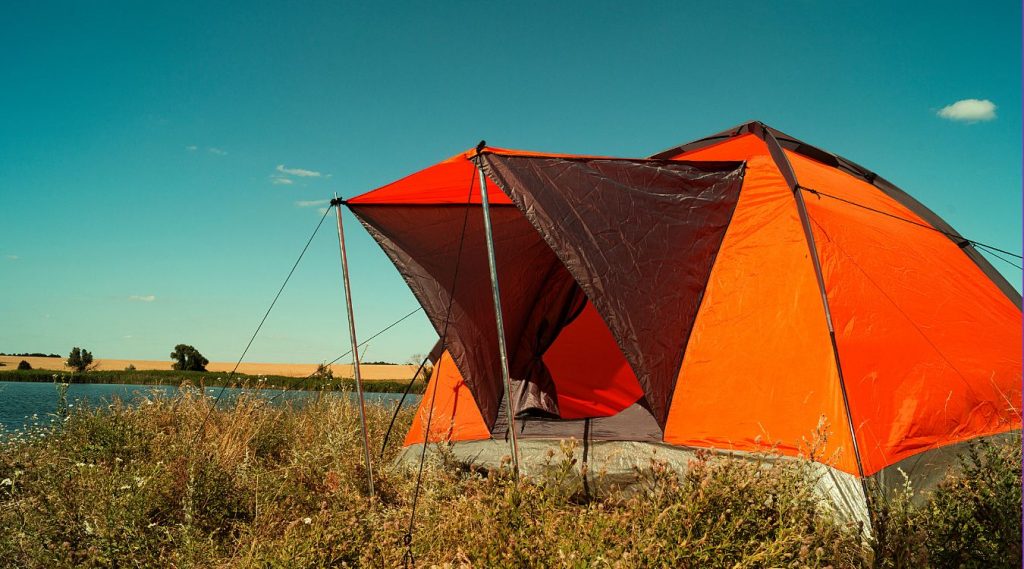 What are the benefits of vestibules?
Vestibules might be good for enjoying weather and sights but that's not all. There are some other benefits that make the vestibule worth every penny.
Mud Room
While camping in the wilderness, it is quite difficult to keep your tent clean (and tents are notoriously difficult to wash)
When you go out for hiking, trekking, or even to fetch water, you often come back with your shoes covered in mud or snow and a drenched raincoat.
And entering the tent like that is not only gross but is pretty unhygienic. But, you cannot leave your stuff outside in the open either
Now, this is why tent vestibules are great.
This partially covered space not only provides you with a place to keep your muddy stuff but also, works as a changing room where you shed top layers and get all cleaned up before stepping foot into the tent.
Weather Protection
Vestibules are made from the tent's inherent material which is in most cases waterproof. It protects your tent entrance from direct showers, snowfall & wind.
In regular tents, when it rains, opening your tent means allowing the water to fall directly inside the tent.
But, with a vestibule, whether it is light showers, snowfall, or high winds you are not only protected from it but it also provides a safe area to pull up a chair and enjoy the drizzle.
Storage Area
Making space or organizing things in a 1-2, or 3-4-person tent is quite difficult. If you are carrying a lot, you would appreciate an additional space for all your gear and stuff.
Keeping all your camping gear inside your tent is not an idea solution. Things can get pretty claustrophobic in a small tent space.
Vestibule provides an additional space for all your gear and backpack so that you can enjoy the space inside your main tent canopy.
So, you can keep all the crockeries and accessories outside and sleep peacefully with enough space to place your air mattress or sleeping pad and to toss and turn.
If you are camping with a small generator, you can use this area to place your generator as well during a rainy night. The generator noise will be a little disturbing but it will be safe from rain and dust.
Cooking space
We all are aware of the dangers of cooking inside the tent. But, what if it's too cold and windy outside to cook? Vestibule to the rescue again.
Vestibules are covered but are well ventilated as well. And, this is what makes them perfect for outdoor cooking.
Carbon mono oxide intoxication can be lethal when you try to cook inside the tent (also you can put your tent on fire). But with a tent vestibule, you can cook in a covered area without the risk of smoke filling your tent (and lungs)
So, you can easily light up your propane stove and cook your dinner. It is also a good place to keep your tent space heater before you go to sleep to avoid any leakages during the night.
Are vestibule tents expensive?
Tent with vestibule are going to cost more compared to regular tents. The additional material and labor will add to the price.
But if you look around, you will find more affordable options as well that you can buy. If you are tight on budget, you can just make your own DIY vestibule as well (details below)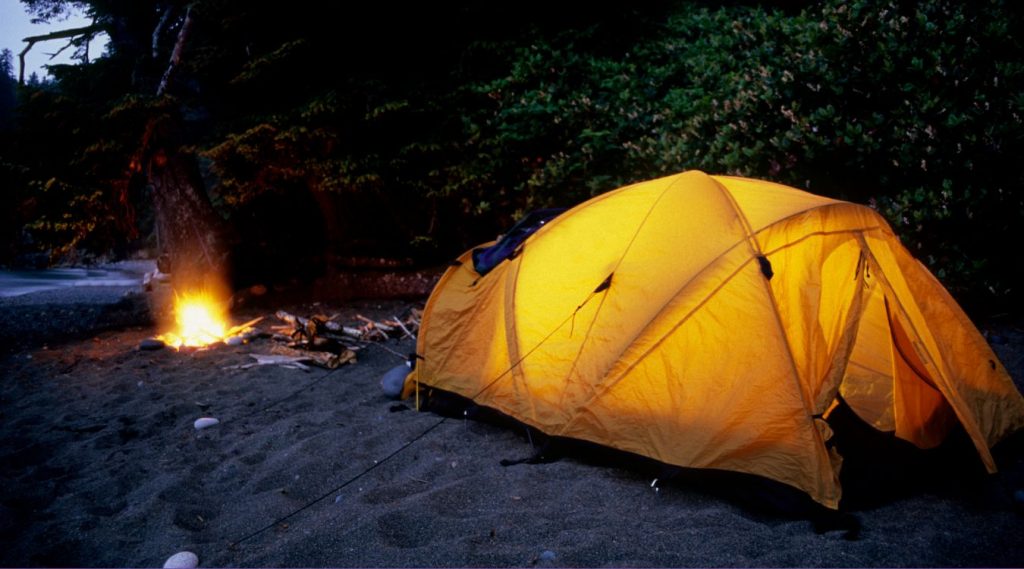 Two of my favourite vestibule tents in terms of affordability are the ALPS mountaineering – Taurus 4-Person tent and Coleman Sun Dome Tent.
Both of these are high-end 3 seasons tents and are relatively cheaper than other vestibule tents.  
The vestibule that the Taurus 4-Person tent has is the spacious side vestibule with two entryways whereas, Coleman's sturdy sun dome has the front vestibule design.
Can I buy a vestibule separately?
Tents with vestibules are pretty common these days. But If you already have a tent and just want to add a vestibule separately, you can do that as well.
Since a vestibule is not a necessity, there are tent manufacturers that provide vestibules as an add-on tent accessory. Tent vestibule add-on will enhance your camping experience with the existing tent.
However, before you buy one you have to check if it is compatible with your type and shape of tent.
But where do i buy vestibules, you might ask. The best place to look is your existing tent manufacturer's website. See if they have an add-on vestibule that you can use.
These vestibules can be easily attached and detached and come in handy with the tent. The best example of these tents is Eureka –Add On Vestibule Mini Room tent.   
Can I make my own tent vestibule?
Yes! Making a tent vestibule on your own is indeed a brilliant idea. If you have the right tools and material it's the best price vestibule you can get.
It just takes 5-7 minutes to construct your own vestibule in the size you want.
To construct a vestibule all you need is a waterproof tarp with eyelets (6×8 or 8×10), a packet of pegs, a roll of strong wax cord and a mallet.
Start with the back of the vestibule. First, secure the back pegs in to the ground on each side of the tent. Place it roughly at 1/4th of the tent's length.
Then, take one end of the tarp and pass the cord from one corner of the other.
Put the cord corner of the tarp over the tent and secure the backend of the tarpon back pegs on each side one by one.
Once the back ends are secured, then, take two more pegs and secure them into the ground. Consider the size of the tarp while securing the front-end pegs.
Then put the cord into the front eyelets and secure the front ends into the pegs.  
And, that's how you construct your tent vestibule in no time.
Tent with Vestibules
If you are not a DIY person and want to just get a tent with a built-in vestibule, here are a few recommendations.
Front vestibule tent
Front Vestibule Tent
NEW expanded headroom and larger front entry with updated high-volume architecture and steeper walls.
Solution-dyed fabric is highly resistant to UV fade
Easy to pitch with pre-cut guy lines and tensioners.
Front vestibule for your camping gears
Durable and comes with lifetime guarantee.
Front Vestibule Tent
QUICK PITCH: Sets up in under 5 minutes thanks to pre-attached poles
EXTRA SPACE: 7 x 3 ft. full-fly vestibule creates a protected entry and adds extra storage​ space
MORE HEADROOM: 20% more headroom than traditional Coleman dome tents because of the nearly vertical walls
WIDER DOOR: Makes it easier to move airbeds, sleeping bags, and other gear in and out of the tent
ROOMY INTERIOR & EXTRA STORAGE: 7 x 5 ft. with 4 ft. center height; fits 1 queen-size airbed; mesh storage pockets and gear loft keep small items organized; great size for car camping or backpacking adventures
1-YEAR LIMITED WARRANTY
Front Vestibule Tent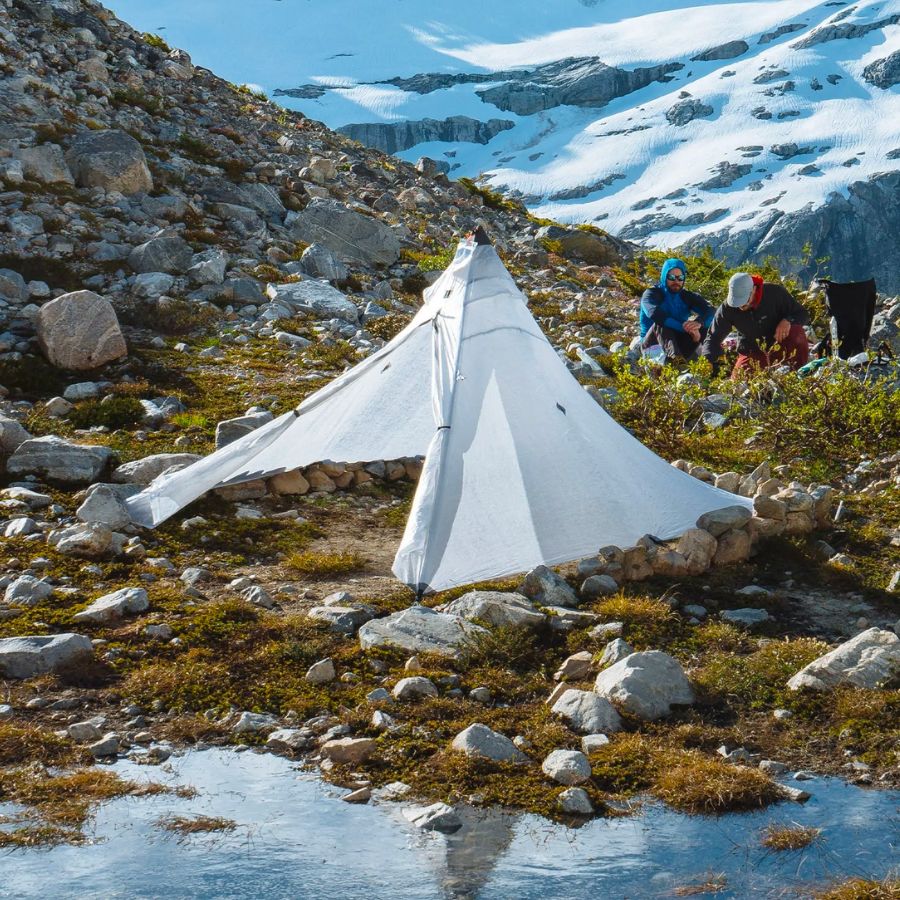 Material - DCF8
Weight - 1.17 lbs | 18.7 oz. | 530g
Capacity - 1-2 People
Folded dimensions - 8.5" x 6" x 5.5"
Area - 63 sq. ft.
Width - 6' 11" | 83" | 210.8cm
Length - 8' 11" | 107" | 271.8cm
Height - 5' 4" | 64" | 162.6cm
Made in - Mexico
Side Vestibule Tents
Side Vestibule Tent
Lightweight and strong with two doors and two side vestibules.
Symmetrical pole structure for easy and roomy setup.
Two dual zipper side doors for easy in & out.
Ready to pitch and pack design.
Polyester material that is breathable yet waterproof on all seams.
Side Vestibule Tent
Lightweight with a minimum weight of 2 lbs. 14 oz (1.30 kg)
True rectangular floorplan and exceptional head room (46 in/1.17 m); two large side-entry vestibules to store gear
Waterproof DuraShield fabric coating and taped seams keep the elements outside where they belong
Easton Syclone poles made of cutting-edge aerospace composite materials are virtually indestructible in challenging and windy conditions
Unified hub-and-pole system, symmetrical design and ultra-compact stuff sack make setup and packing super quick and easy
What is a vestibule in a tent? – conclusion
A vestibule is an additional covered space outside of your main tent canopy that you can use to store your gear, cook or just sit and enjoy the campsite.
After reading this detailed article I am sure you now understand the vestibule tent meaning and also know if you need one or not.
A vestibule is definitely not a necessity, but having one for sure makes things better. It provides an additional spacious area to enjoy nature, cook and store your gear.
Vestibules and awnings are one of those accessories that make your camping experience a bit more delightful and a lot less stressful.
So, even if you can't afford one, construct it to have the best of your trip.
Tent Vestibule – FAQs
How do you put a vestibule in a tent?
Most vestibules come attached to the main tent body. However, if you have a separate vestibule or add-on vestibule, you can put it on a tent using pegs and a wax cord to stretch it.
What is a vestibule tent?
A tent with an attached covered area on the outside of the entrance to store camping gear or cook is called a vestibule tent.
Do you need a tent vestibule?
You don't need a tent vestibule if you are not camping in harsh weather like snowfall or scorching sunny days. It is an add-on that you only use to enhance your tent camping but not a necessity.
How do you make a tent vestibule?
You can either buy a tent with a vestibule or make one yourself using a waterproof tarp. If you want to make your own vestibule, you need pegs, and wax cord to stretch and hold the tarp at the entrance of your tent.
Can you cook in tent vestibule?
A tent vestibule is a great place to cook your food. It is partially covered from the weather (wind, rain, snow) and at the same time well ventilated to avoid smoke and carbon monoxide.
What is a double vestibule tent?
Some tents are built-in vestibules on both sides of the tent. These tents have two doors – one on either side – with attached vestibules. They are called double vestibule tents.
Recommended Camping Gears: I have compiled a list of my favourite camping gear in one place. The selection is based on my own personal experience using them for many years camping as well as feedback from fellow campers. Check them out on my Recommended Camping Gears page