Choosing the correct tent tarp size for camping is more like choosing the right bed size for sleeping. What's the use of buying one that doesn't fit?  There is no 'right way' to choose a perfect size, but I can assure you, "the bigger, the better" fits in this situation perfectly.
You obviously don't want to buy a brand new tarp and find it a bit smaller than your tent at the campsite or too big and hard to carry at all. Based on my personal experience with different tarp sizes over the years, I wrote this article to be your personal tent tarp size calculator and reference guide.
How to calculate correct tent tarp size for camping? To calculate correct tent tarp size for camping, select a tarp size that is slightly bigger than your tent. For a solo camper, a 6×8 sq. ft tarp will provide sufficient room to cover a camping tent. An 8×10 sq. ft tarp will be spacious enough for cooking, sleeping, and even for pets. A 8x10sq. ft tarp will be good for 3-4 people.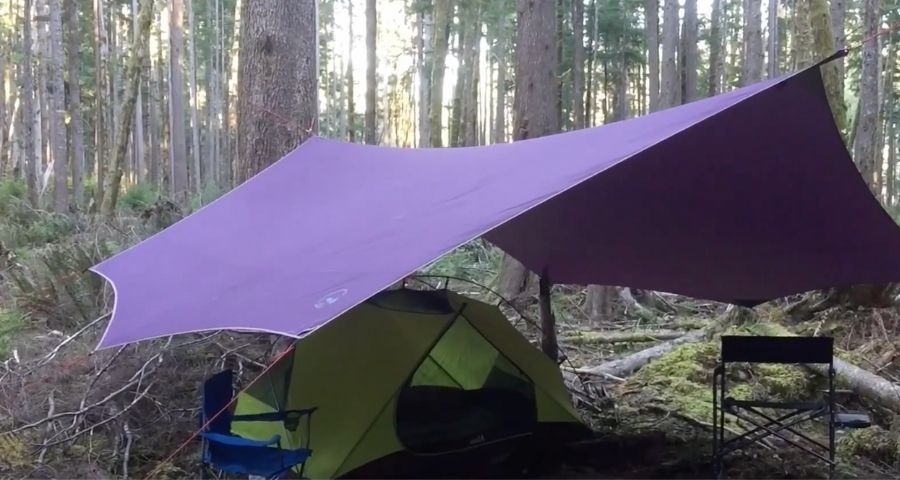 Apart from the number of people, there are plenty of other factors that can make your tarp size go wrong. Factors like finished and cut sizes, windy or rainy weather, or purpose of use.
But don't worry, I have got you covered.
Factors affecting tarp size selection
Choosing a correct tent tarp size is an important decision that shouldn't be left to chances. You have to consider a factors before you can chose the dimensions that fits your need.
Let's discuss the factors that will influence your sizing calculations.
Design consideration
Tarp configuration is one of the most important factors to consider. There are a number of different ways to configure a tarp according to your requirement or preference. The most common ways are;
A-frame configuration (like a tent over your tent)
A flat square configuration atop your tent
A rectangular pitched configuration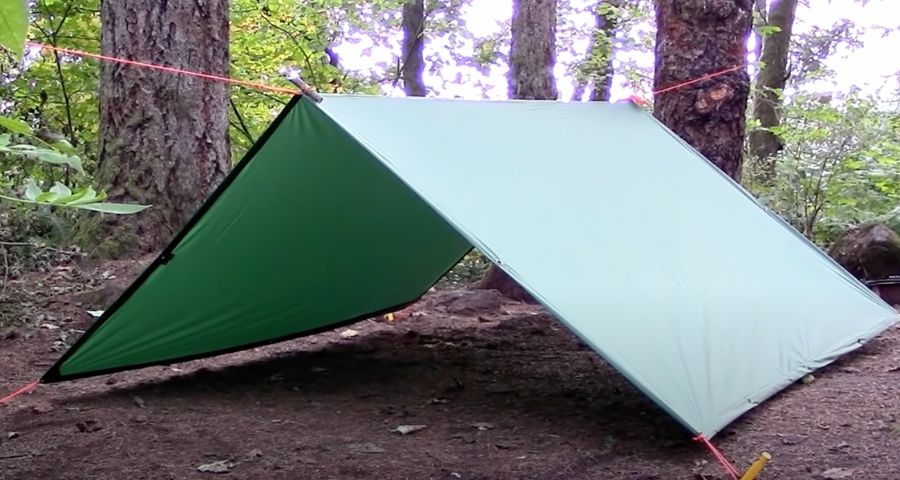 An A-frame tarp or half pyramid tarp gives better coverage from top and two sides and is usually used to sleep. A 10 x 10 A-frame tarp provides optimum space for two people to sleep, whereas a square-pitched tarp is usually used to sit, cook and enjoy the weather because its open configuration is better to look around. It provides minimum shelter from side rain or the sun.
So, before you settle on the configuration, have a look at your primary need for the tarp. Are you going to use it against harsh weather or just a casual shelter atop your sitting area?
Finished & cut size
This is another crucial factor to consider. You may have heard people say that they bought a certain cut size that turned out to be smaller than what they expected.
This usually happens because of the cut and finished size.
Tarpaulins have seams, eyelets, and hems. The cut size of the tarp is the size of your tarpaulin before sewing and attaching hems. The finished size is a few inches smaller than the cut size on all sides. Let's say the cut size of a tarpaulin is 6'6'' x 8'6'' then the finished size will be 6 x 8 ft.
So, to get a perfect size, always keep the finish size requirement in mind and get a cut size that is a few inches extra from all sides.
Weather conditions
Weather conditions are a key factor to consider while buying a tarp. Check the weather forecast for the area you are camping in and see if you need the tarp for harsh weather or just a casual over-the-top hang.
For summers, you need ventilation and a maximum air passway. For that, any tarp size that can provide sufficient shade atop your tent will do because you don't want complete coverage from all sides. You can pitch a flat or tilted flat tarp to block the sun while still enjoy good ventilation.
But in snowy or rainy weather, you'll need a tarp that can cover you up completely from top and sides to save you from gusty winds and heavy rains/snow.
Number of people
The more people under the tarp, the bigger the tent size and the bigger the tarp size. A rule of thumb is that each person should have at least a 15 sq. ft area of tarp coverage.
Choosing the correct tent tarp size
Now that you have a better idea of what you need the tarp for and how many people will be using it, its time to calculate the correct tarp dimensions so that you can buy one that perfectly fits your requirement.
Keep in mind the mantra – the bigger, the better.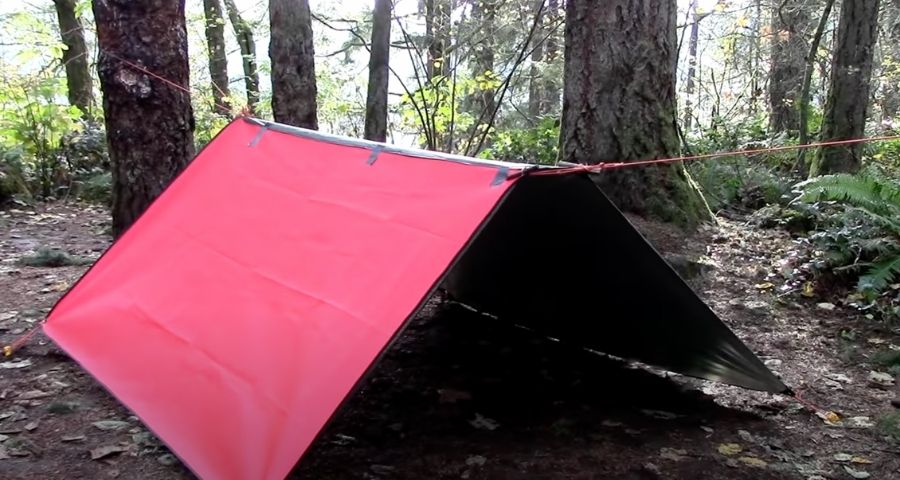 On your camping trip, you will need extra space to keep your accessories, utensils, backpacks, and lots of other stuff. A tarp that only covers your tent may not provide enough room for a person to camp comfortably. A camping tarp should allow a person to get shelter and enjoy his camping time as well.
To simplify this, the best way to calculate the correct tarp size is that you must have more than 15 sq. ft area per person. So, if you are buying a tarp for 2 – 3 persons, your total coverage area should be more than 45 sq. ft.
Once you calculate your minimum tarp size in feet, check your available options in the market and get the one that is one step bigger than your minimum size (remember – the bigger, the better)
Commonly available tent tarp sizes
| No. of people | Minimum tarp size (ft) | Recommended Tarp size (ft) |
| --- | --- | --- |
| 1-2 person | 5×7 | 6×8 |
| 2-3 person | 6×8 | 7×9 |
| 3-4 person | 7×9 | 8×10 |
| 5-6 person | 8×10 | 9×12 |
| 6-8 person | 9×12, 10×12 | 10×14 |
Commonly available tent tarp sizes
Correct tarp size to cover a tent
Apart from pitching a tarp to sit under and relax, cook or even sleep, tarps are also used as rainfly to cover tents from harsh weather conditions like snow, rain or even scorching sun.
A tarp used as a rain fly to waterproof a tent needs to cover the tent's top and sidewalls depending on the function. A rainfly also protects your camp from many bugs falling from above the trees like spiders and even protect you from deadly scorpions.. [Also read how to keep spiders out of your tent?]
To cover your tent, you don't need to go extra big as you already have a tent, and you need an extra layer of shelter. For this, find a slightly bigger tarp size than your tent.
So if you have a 10×10 ft tent footprint, a tarp size of 16 x 16 ft or 16 x 20 ft will work perfectly. For smaller tents like 6 x 4 ft, a tarp cover of 8 x 10 ft will be good. The rule of thumb is the same – go for one size bigger than what you need at minimum.
For a thunderstorm, you might need to pitch a slightly larger tarp as an A-frame shelter to help water slide down tarp sides and keep you warm and safe. For this, you need a larger tarp size to help you pitch high with stakes and size that keep the tent top dry.
Common mistakes campers make while choosing a tarp size?
There are common mistakes that campers make while buying their first tarp for the wild. The tarp is usually considered by people who keep moving on their trip. Pitching a whole tent can be difficult and time-consuming for them.
Considering price over size
Small tarps obviously cost a little less than long heavy tarps due to the price per square meter. But, if you are considering a small tarp to save a few extra bucks, you are probably wrong.
If you are camping without a tent, a tarp is your little own space. Spending a few more dollars and getting a few extra sq. ft to spend a significant amount of time if you get an injury or get stuck in a storm is not a loss.
Even if you are camping with a tent and using the tarp as a secondary shelter, it is a good idea to make sure the size is appropriate for the size of the tent it is going to cover as rainfly or as a sun blocker.
Ventilation or coverage
Most campers don't really give a thought to it. High pitched or low-pitched tarp?. If you have it figured out before going for a trip, and it will be much easier to decide a size.
Material considerations
Material type and material weight measured in grams per square meter (GSM) are important aspects of tarp selection. (see GSM chart for tarpaulin)
Tarp size has a lot to do with the material and GSM you choose. Buying a large, heavy-duty canvas tarp just for coverage will not only be a waste of money but also will be too much on your backpack.
Canvas tarps are usually heavier as compared to hydrophobic tarps. If you need a tarp for tent coverage, you should choose a larger poly-tarp in size, and it won't be too difficult to carry. A bigger tarp can also be modified to be used as a tent vestibule..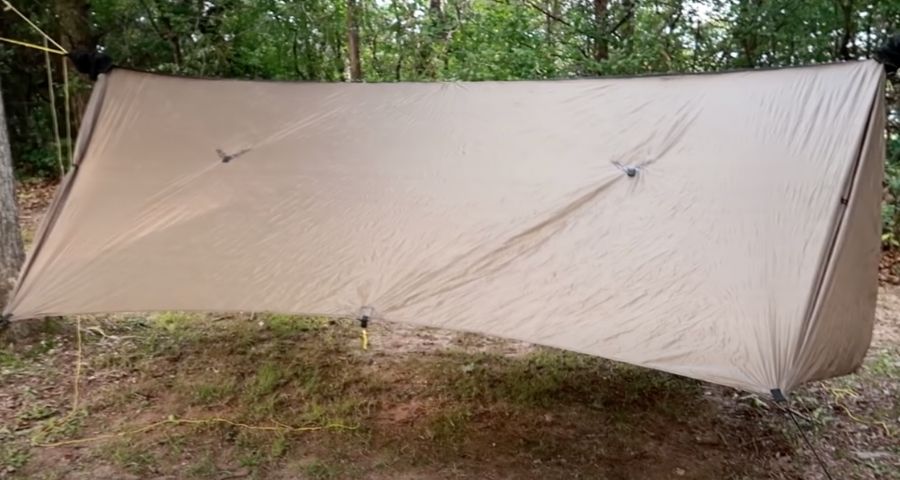 If you need adequate coverage without a tent for solo camping, a canvas tarp in size 6×8 or 8×10 will be enough for you.
Conclusion
 Acing the first tarp you buy as a beginner is nearly impossible. This two-dimensional 'tent' has numerous sizes, materials, and weight availability.
Buying the one that works perfectly for all your trips can be a daunting job. However, one learns through his own experiences.
The best way to do that is to consider the size of all the three-dimensional products you wish to fit in, and this will provide you a rough idea of the one you need.
Happy glamping!
Recommended Camping Gears: I have compiled a list of my favourite camping gear in one place. The selection is based on my own personal experience using them for many years camping as well as feedback from fellow campers. Check them out on my Recommended Camping Gears page