When you think of the main benefits of hammock camping, what comes to your mind? Not dealing with poles and stinky tents? Or compact, easy-to-carry mode of camping?
These certainly are benefits of hammock camping, but that's not where it ends.
There's this connotation attached to hammocks that they are for free-spirited campers who crave freedom, isolation, and nature. But what if I tell you that no matter what your camping type is, once you turn to the hammocks, you would never want to look back?
The benefits of hammocks are numerous. You can sleep better in a hammock. It helps your back pain and insomnia and helps you relax. It is also easy to pitch, protects you from insects, and provides better insulation and protection against rainwater. Also, an open view from a hammock is far better than a closed-walled tent.
If you are still not convinced, here is a list of 8 benefits of hammock camping that might help you choose your sleeping option on your next camping tour.
1. You Can Camp Wherever You Want
If you have been tent camping for a while, you may already be familiar with the hustle of finding that one dry spot with no rocks and a smooth surface with just the right amount of inclination to make you sleep comfortably yet avoid rainwater poodles if it rains that night.
The spot that allows you to sleep peacefully even if it looks barren and has no scenery around to appreciate. But, is that what you came all this way for?
You go past multiple heart-soothing and fulfilling locations that you would love to camp in but the tent won't allow you to do so.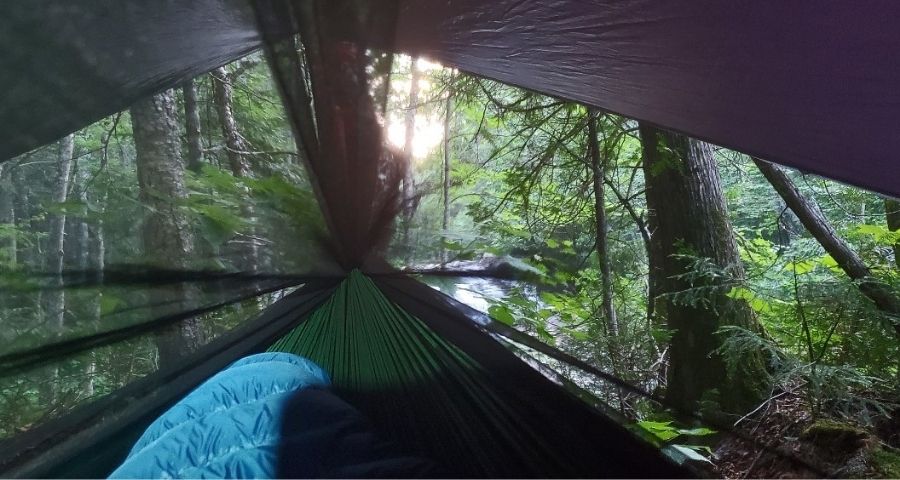 That's where Hammock Camping wins. You can hang the hammock literally anywhere, over a mesmerizing stream of water, in front of a fascinating view, or in front of a rocky mountain and have the best of nature.
All you need is two strenuous sources that can handle your weight. You can even hang your hammock without trees.
So, compared to a tent, a hammock lets you camp anywhere you want.
2. Hammock Helps You Sleep Better
Whether you are sleeping in a tent with your sleeping pad or a sleeping bag, there are chances that you either wake up tired, wet, or with backache.
The unevenness of the ground not only puts pressure on the body but, at times, ends up rupturing your gear, which is not the case with hammock camping.
The benefits of sleeping in a hammock are well-known. It helps a lot with posture. When you sleep in a tent, your body has to adjust to the surface, which is uncomfortable due to the bumps.
On the contrary, when you sleep in a hammock, it adjusts with your body shape and allows you to feel relaxed.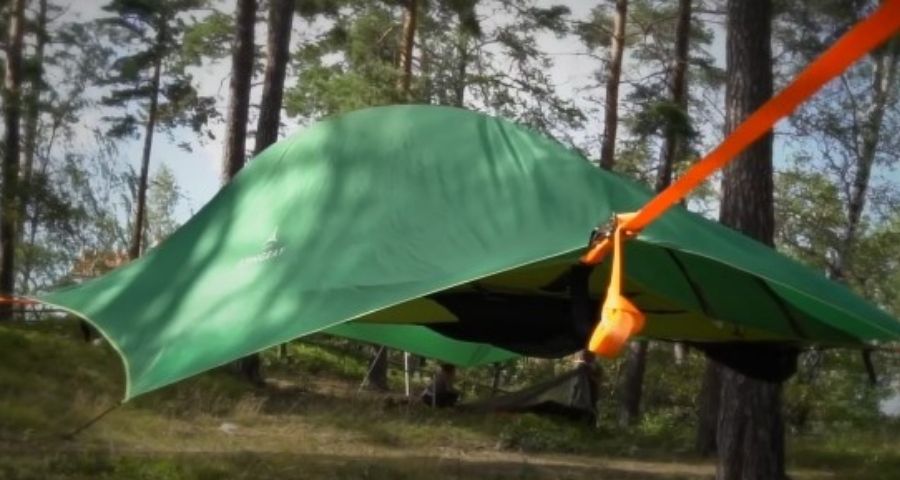 In a hammock, your head is elevated at a 10 – 30 degree angle which helps blood circulation. The ventilation and absence of pressured points (unlike ground) help you in sleeping better.
Another advantage is the movement; like how babies sleep faster in the swing, the swaying motion allows the campers to sleep better, faster, and deeper.
For a more detailed discussion on the sleep benefits of a hammock, skim this great article from Healthline.
3. Hammocks Are Equally Good Against Weather
Campers primarily choose tents over hammocks because they think it's more insulating and isolative. Well, that's true, but hammocks are equally good at providing insulation with the right sleeping gear.
If you need a tent-like warmth in a hammock, you can easily get it with the right kind of gear, like under-quilts and sleeping bags. All these gears help you in getting all cocooned up and get the insulation you need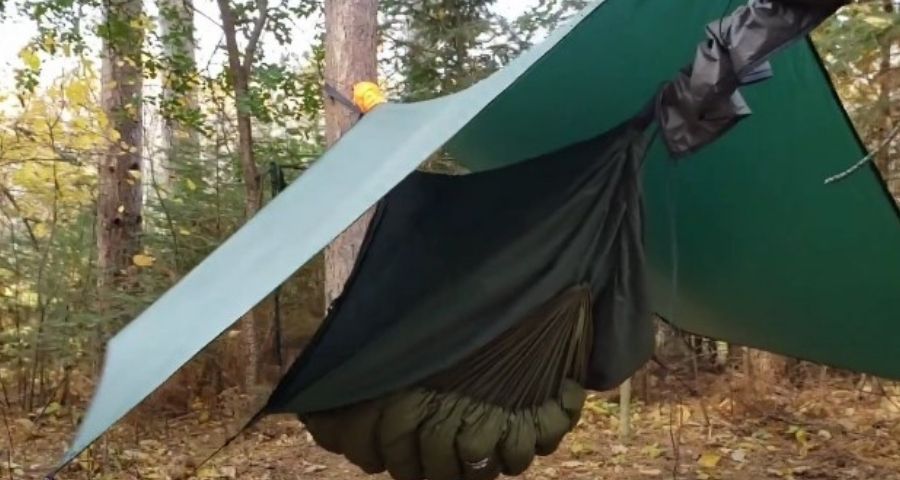 Also, while tent camping, there are chances of you getting wet due to the puddles formed by rains around your tent if your ground is not sloped enough to aid water draining.
On the contrary, when you are in a hammock, you don't have to worry about rainwater as you are above the ground and are protected by your rainfly and tarp.
If you compare a tent with a hammock on all aspects, your hammock can win the argument with its pros.
4. Hammock Is Light on Your Shoulder
One of our major concerns while hiking and trekking are carrying all the weight over our shoulders. We cut corners and optimize our gears to reduce the weight as much as possible.
A hammock is designed to aid you there as well. Compared to a tent, it's very lightweight.
Hammocks are so easy to carry and lightweight that even if you carry all your stuff for a hammock camping trip, the whole package will still weigh less than a tent.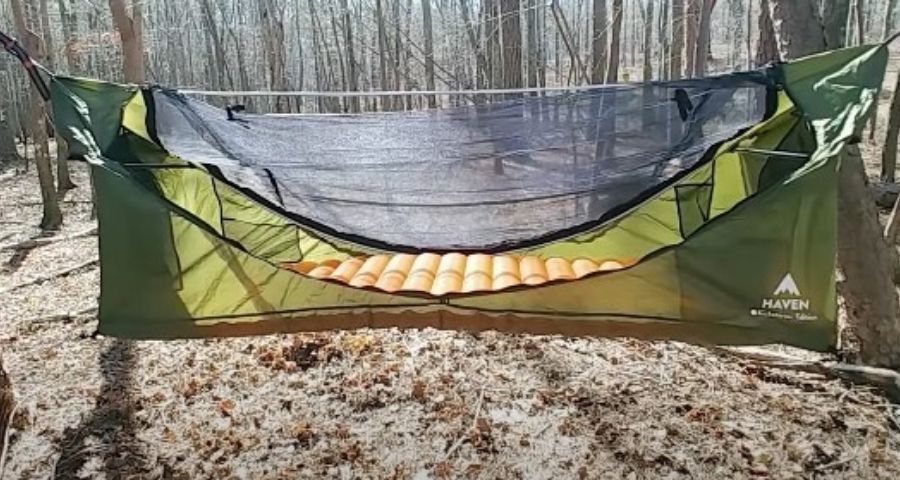 Another plus point is, while you are trekking, dealing with poles, finding areas to pitch, and pitching a whole tent is hard.
Whereas unfastening a hammock, packing it, and traveling with the ultra-light backpack saves a lot more time.
5. Hammocks Are More Breathable
Having the best of the environment is not the only benefit hammocks provide. It also provides more exposure to fresh air than tents.
The breathability of gear is non-negotiable for a camper. Insulation without enough ventilation can make you sweaty and uncomfortable.
But, there are hardly any waterproof tents that allow the camper to breathe without slight difficulty. When you are in a tent, be it a nylon or cotton tent, it insulates you by restricting the airflow.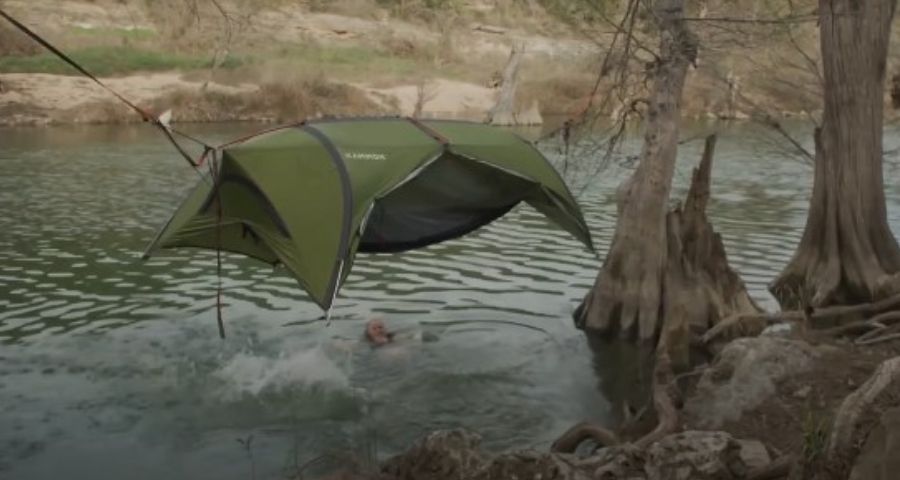 When you camp in summer, you tend to sweat a lot and feel suffocated, which is not the case with hammocks.
While lying on a hammock, you get airflow from above and beneath, allowing the body to get the maximum flow of air. You can camp in hot summers even without carrying those battery powered air conditioners for tents.
Being in the fresh air, breathing freely, and feeling the aura keeps you healthier and happier and makes your camping trip memorable.
6. Hammocks Are Safe
You may have heard stories of campers finding rattlesnakes and tarantulas in their tents since they forgot to zip it up.
While you are in a hammock, the only way to get into it is by climbing the tree or the poles it is hung from that too, if the hammock is not covered properly.
Hammocks are usually hung a few feet above the ground, which not only provides ventilation but makes it a lot safer as it is not that easy for the crawlers to access.
Apart from that, for sudden rain, or sun protection, you can tie tarps, rainfly, and other covering gears on top of your hammock to get maximum protection while you sleep.
Tarps cover with the right configuration ( A-frame or square) work just like a tent and cover the hammocks completely.
7. Pitching Hammock Is Easier Than Tent
If you are a regular tent camper, you know the hustle of cleaning the whole area off rocks, understanding the instructions, and fixing the poles.
While camping in a hammock, the only thing you look for is two trees at a distance of a few feet apart.
If trees are not available, you can hang them from rocks, poles, and even your car. You don't have to clear the ground or find the perfect spaces to pitch.
I have written a detailed article about hammock camping without trees if you want to explore it further.
On a trip, when your fellow campers are busy figuring out their poles, you would be resting inside the hammock. Because hanging a hammock requires 2-4 minutes, setting up a tent surely takes way more than that.
8. Hammocks Are Affordable
Another benefit of a hammock is its low cost. That's pretty much obvious as hammocks don't have poles or side walls or a complete roof. This is why it costs half as that of a tent.
A good hammock can cost up to 20 – 50 dollars where, as a one-person tent can cost way more than that.
You might think, "But if I add all the additional cost of tarps, under quilt, sleeping bag, and rainfly, will it not be the same as getting a tent?" No. You will need all these things for a comfortable tent camping too.
So, when you plan a trip, and you have a tight budget, it is wiser to choose a hammock because it will allow you to have room for buying other stuff like food or sleeping bag.
Conclusion
Hammock camping is not flawless; it has a few drawbacks as well, but while you are in the wild, you look for spots and environs that captivate your soul.
You need gear that provides you with the best of surroundings, and hammock camping makes it possible.
You get comfort, pleasure, safety, value, happiness, and convenience, all in one small light-weighted package! So grab your hammock and enjoy your time in the wilderness!
This blog is part of our comprehensive hammock camping guide. If you are new to hammock camping, read the complete guide to get ready for your next camping trip.
Recommended Camping Gears: I have compiled a list of my favourite camping gear in one place. The selection is based on my own personal experience using them for many years camping as well as feedback from fellow campers. Check them out on my Recommended Camping Gears page