I remember the first time I came across a fellow camper sleeping in a stretched cloth hanged between two trees. My initial thought was, "what an uncomfortable way to sleep". But I was wrong. Ever since I tried my first hammock for a full night's sleep, I have become a fan of hammock camping.
But I always come across people who are diehard fans of either tent or hammock camping. The 'tent vs. hammock camping' has turned out to be a never-ending debate.
So, which one is better for camping? Tent vs hammock camping debate is very old. Tents are safer, warmer, and provides better insulation during harsh weather. They are good for campers who require ultimate protection. On the other hand, hammocks are cheaper, easy to pitch, more comfortable, and quite mobile.
Choosing a tent or hammock also depends on the weight, fabric, size, and type of hammocks or tent you need. It also focuses on the type of camping trip, for instance, the length of your stay? Or how often you change destinations?
By the time you end up reading this blog, you will hopefully have answers to all your "tent vs hammock" questions. So let's begin…
Is it safe to camp in a hammock?
Safety may be a major concern for campers planning to shift to a hammock. You do not want to fall and break your neck or become the next meal for a bear?
Well, it won't happen either way!
Let me assure you that hammocks are equally safer. The only condition is to use good quality gear and mount it with all the precautions. A loosely bound hammock and surely make you fall in the middle of the night.
If you want it to be safer, you have to mount it a bit higher than usual. This way you can avoid bugs, raccoons, and other animals.
Hammock comes equipped with mesh and tarp covers. Fire also helps in keeping the insects and animals away and makes it as safe as a tent.
Pitching a tent vs. hanging a hammock
Pitching a tent is obviously more difficult than hanging a hammock. Not only is it time-consuming but, it requires a lot of effort. And let's be real, who has that kind of energy after a long day of trekking.
Each option has its own drawbacks. Consider a situation where you have to camp for a few days, and you need a water source nearby. It is much more difficult to pitch a tent in a muddy area whereas you can hang your hammock with just two trees.
 In situations, where you have to be selective of the campsite, hammocks are the best.
Now, consider a situation where you have a campsite, but you cannot find trees strong enough to hold your hammock. Or there are trees but are not well spaced, then that would be much worse.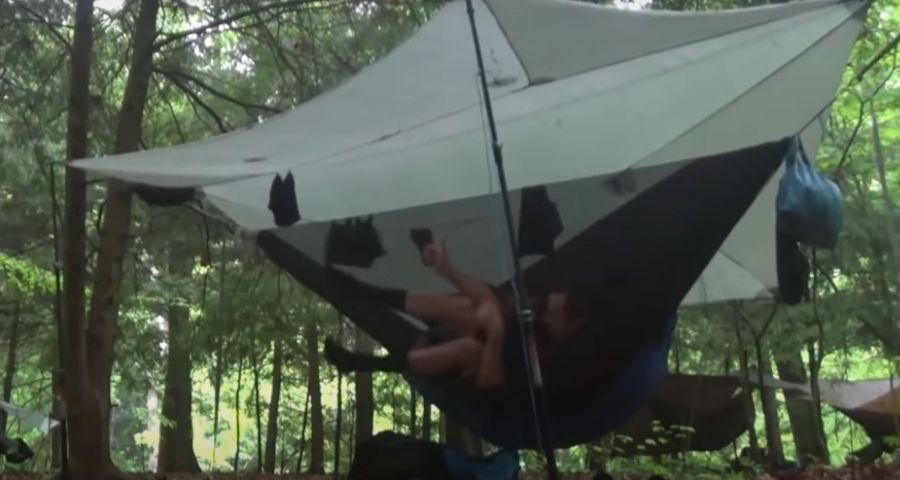 So, both are suitable for different circumstances, but hammocks are much easier to hang if you have poles or trees at a camp location.
Is hammock more comfortable than tent?
It is fairly easy to get in and out of a hammock than a tent. Hammocks are way more comfortable whether you want to enjoy a good night's sleep or read your favorite book in the afternoon.
With tent camping, you have to carry a sleeping pad, cot, or air mattress. That's one additional thing to pack. With hammocks, you can just slip in and enjoy a cozy sleep (if the weather is not too cold else, you need hammock quilts or a sleeping bag)
Hammocks without rain protection are not very ideal as you can wake up drenched in rainwater in the middle of the night. But if you have rain tarps and a waterproof hammock, it's easier to camp in any season.
However, the chances of getting wet in rain are there for tents that have not been properly waterproofed.
Is a hammock more suitable to sleep in than tent?
Again, a very personal preference. Some people need a hard surface to sleep well and won't be able to shut their eyes in a swinging hammock. For others, a swinging hammock is a cherry on top.
Either way, you would not want creepy crawlies walking beside you or stones digging into your body while you sleep, which is more likely to happen when you sit or sleep inside a tent.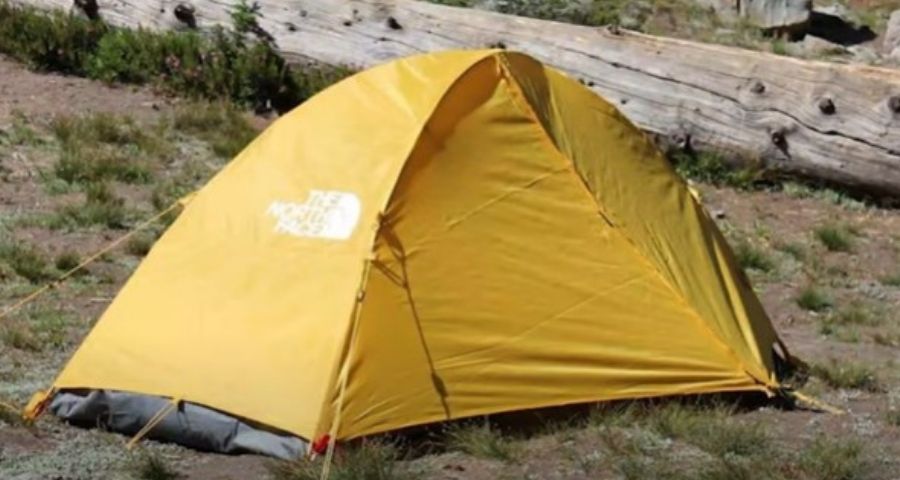 Lying down reading or sleeping in a hammock is way more comfortable and relaxing than a tent for sure. Though tent can be made comfortable by adding sleeping pads to the ground.
But, you are more likely to wake up wet if it rains in a hammock, which cannot happen in a well-waterproofed tent.  
If you are camping in the summers and want to have the best of your campsite, and enjoy nature to the fullest, then the hammock is the best. Hands down!
Which is warmer? Tent or hammock?
If you are concerned if your hammock is good for winter camping. Then, you've all the rights to be concerned.
Tents are way warmer and more insulating than a hammock. Hammocks are designed to give you the best of the environment. It keeps you exposed to nature which helps you relax.
If warmth is what you need, then a tent is warmer and protects you from sudden weather changes like storms and extreme winds. You can get into your tent instantly and feel much relaxed.
Having said that, sleeping gears like sleeping pads, quilts, sleeping bags, and comforters can be used while camping with a hammock to be warm.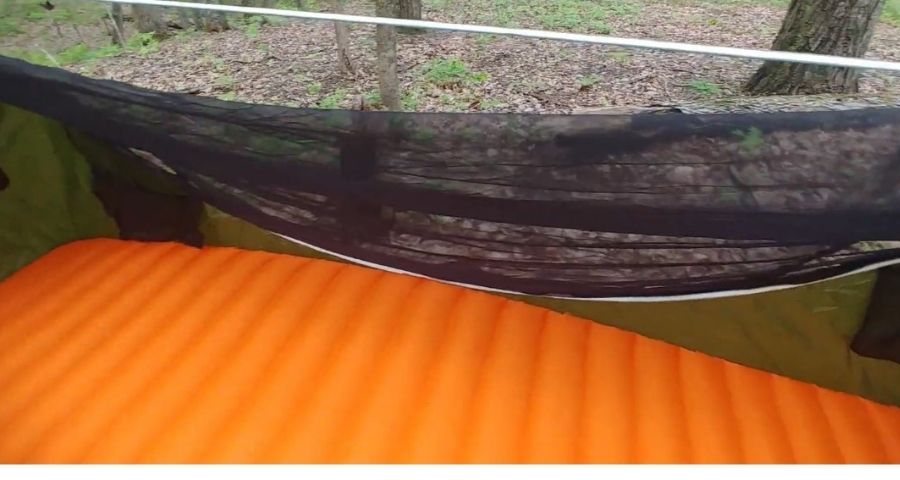 Tent vs Hammock weight
Hammock weighs way less than a tent. An average one-person tent weighs around 1.6-2 lbs. whereas a hammock including all necessary accessories weighs around 1.4-1.8 lbs.
Though the difference is not very drastic, If you compare a canvas tent vs a hammock you'll definitely find a surprising difference. Canvas tents are very bulky and hard to carry.
The overall tent and hammock package weighs almost equal but hammocks are easier to carry because of their package size and mobility.
Cost difference between tent camping vs hammock camping?
Price matters a lot for the campers planning a camping trip for the first time. You surely want to keep it inside your budget and not beyond.
Hammocks are a much more economical option when it comes to camping gear. Tent users may argue that a hammock requires meshes, tarps, and covers but so does a tent.   
The price difference between a hammock and a tent is pretty big. A good quality one-person tent may cost around $100-250 or maybe more than that. But, a hammock with all the gears costs up to $50-110.
If you are looking for good-quality, durable, and compact camping gear then Eno Eagles Nest is one of my favorites for hammock camping. It is not only very cheap but comes with all the necessary accessories packed with it.
Is it difficult to clean and maintain a tent than a hammock?
A hammock is much easier to clean and maintain. No doubt about it.
A tent has a groundsheet, a rain fly, and other accessories. Imagine cleaning a muddy groundsheet, with a tent with a patchy rain fly and a stained tent after a camping trip.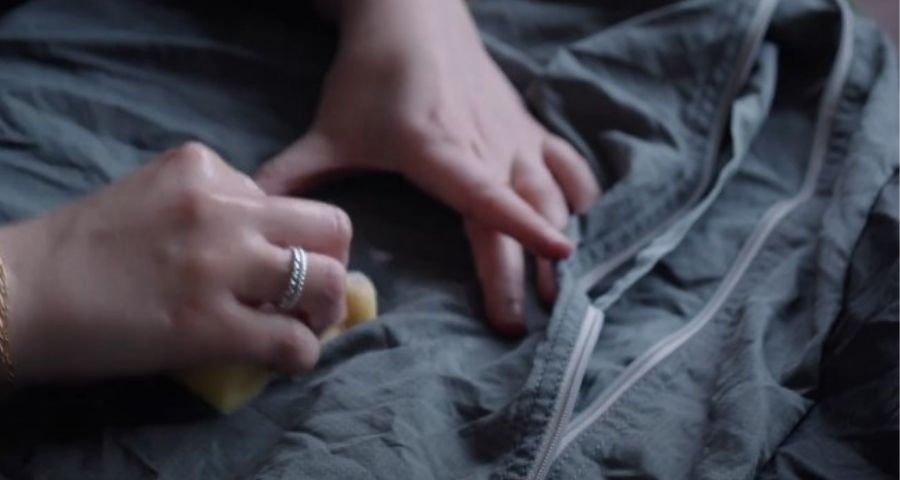 Groundsheet tends to stay on the ground and is an essential part of a tent. Which, you can easily avoid if you choose a hammock.
Hammocks on the other hand are easy to clean and maintain. I have written another article on how to properly wash your hammock if you want to read about it in detail.
Hammock Vs. Tent – Final score
If you still cannot decide which one to choose, all you need is to identify the factors that you want to consider for your trip and you'll know which one to go with.
| Factor | Tent | Hammock |
| --- | --- | --- |
| Comfort |   | ✔ |
| Cost |   | ✔ |
| Good for summer |   | ✔ |
| Good for winter | ✔ |   |
| Protection | ✔ |   |
| Bad weather protection | ✔ | ✔ |
| Good for a family trip | ✔ |   |
| Weight | ✔ | ✔ |
| Ease of setup |   | ✔ |
| Mobility |   | ✔ |
| Good for a solo camping |   | ✔ |
tent vs hammock camping comparison table
Tent vs Hammock camping – Conclusion
Tents and hammocks are both equally popular. It depends on your budget, trip plan, condition and comfortability, and a bit of personal preference.
A hammock will work for you if you crave an environment in your surroundings and wants to have the best of it. A tent will protect you better in the wild but will keep you from a good look around.
Go with the one you think is best for you! Happy camping!
This blog is part of our comprehensive hammock camping guide. If you are new to hammock camping, read the complete guide to get ready for your next camping trip.
Recommended Camping Gears: I have compiled a list of my favourite camping gear in one place. The selection is based on my own personal experience using them for many years camping as well as feedback from fellow campers. Check them out on my Recommended Camping Gears page