As an avid camper, you meticulously plan for the perfect outdoor getaway. However, imagine waking up soaked to the bone on the much-anticipated weekend due to an unanticipated downpour, revealing that your tent isn't waterproof.
That's a scenario no camper wants to face.
To help you avoid this nightmarish experience, this article will guide you through the process of making your tent waterproof, ensuring that you remain dry even when Mother Nature has other plans.
From using DWR sprays or silicone water-repellent sprays to applying a wax coating or relying on traditional methods like rainflys, tarps, or PU-coated sheets, we've got you covered.
Continue reading to explore the different waterproofing options available, each with its pros and cons, so you can make an informed decision about the best solution for your needs.
Plus, we'll discuss what to do if you're caught without any waterproofing materials on hand. Trust us to keep you dry and comfortable on your next camping adventure!
Let's get started!
How to Make a Tent Waterproof?
There are plenty of options available in the market when it comes to waterproofing a tent. Let's start with the most common one.
DWR Wash Sprays 
The best thing about Durable Water Repellents (DWR) spray is that it is breathable. These sprays will not make you feel uncomfortable inside your tent. Most waterproof sprays completely block the pores that leave the man inside feeling hot and suffocated.
DWR washes keep the water droplets at a high contact angle to the fabric. This allows water droplets to stack up and eventually fall from the sides.
It keeps the tent more ventilated than other sprays without actually letting the water in.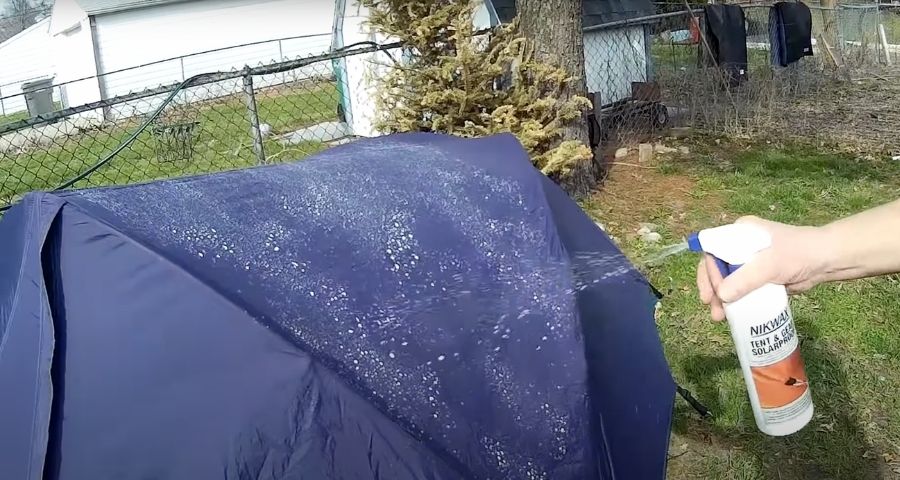 Why do I recommend them? In my experience, Durable water-repellent sprays are the most effective and easiest method of waterproofing tents. They provide the best water repellency, among other options, without affecting the breathability of a tent.
The best part about these sprays is not only do they provide air permeability, but they are also light on the pocket. Most of them are also biodegradable, so it's safe for the environment as well.
The application method is very easy. Just spray thoroughly on your upright tent and spread the droplets evenly with a sponge or soft cloth, and you are set for the night.
What do I not like about them? The disadvantage these sprays have is the requirement to re-coat. These sprays require optimum care with re-coating every once in a while because they tend to wash off.
But since the application method is so easy, one can easily manage that!
Product suggestion: I highly recommend Nikwax-TX (Amazon Link) wash because this product provides the best results, which means no stains or no odor with good air permeability. They are also very affordable.
You can get a 10oz bottle for around $10. What would be cheaper than that? Hunh?!
Silicone Waterproofing Spray for Tents
Water-proofing silicone sprays are also the most commonly used waterproofing technique. The silicone layer tends to block all the pores with its molecules that could pass water particles inside.
The market is filled with waterproofing sprays of all kinds at varying prices; finding the right one can be a hustle.
Why do I recommend them? Silicone-based water repellents are also pretty good. They provide the best water resistance and do not affect breathability much. They are also quite cheap and can be used on most camping gear, not just your tent. 
What do I not like about it? The drawback of silicone water repellents is that they require careful coating. Excessive or uneven coating can affect air permeability. Also, there are plenty of silicone water repellents present in the market.
If you end up buying a cheap one, it will wear off sooner than you think because silicone water repellents are not good at handling the scorching sun or bad weather.
Product Suggestion: Kiwi camp dry is one of the most reliable silicone water repellents in the market. It possesses the inherent quality of silicone to bond with the base material and provides remarkable water resistance.
Apart from tents, it can also be used with leather shoes, jackets, and raincoats. It's quite affordable as well. You can check the latest prices on Amazon (Link)
Waterproofing Wax Coating
Wax-coating is indeed a pretty awesome way to stop water penetration as wax does not go well with water. But, this technique is not as commonly used as DWR wash because of its effect on breathability.
Wax works exactly like oil; it creates a membrane over the tent fabric and seals all the holes and pores. It doesn't let water molecules penetrate at all.
Also, it's a pretty tiresome job to apply wax over a large surface of a tent compared to a spray-on solution. That's why it's a good idea to use wax for the most vulnerable areas like the seams and zip.
Why do I recommend them? Wax coating provides the best waterproofing. If you need a tremendously waterproof tent and tent accessories like a vestibule, then the wax coating will do the job. With a layer of wax over your tent surface, you will be sure that it can hold off a pouring rain.
What I don't like about it? A wax-coated tent may be completely waterproof, but it can be quite difficult to be in. Because of zero air permeability, it can cause excessive sweating and suffocation inside the tent. Also, wax can leave white stains on the fabric, but in case you have no other options available, wax really can help in bad weather!
Product recommendation: I would recommend going with a naturally obtained bee wax like the Atsko Sno-Seal (Link). It works great on cotton as well as leather products like your shoes and jackets.
What Parts of My Tent Need Waterproofing?
The three parts of tents that are more prone to water penetration are the base fabric, seams, and zippers. The above-mentioned sprays may work for the flaps and walls, but they don't work for seams and zippers.
Seam sealers 
Seams connect two panels of a tent, which is why it is more prone to water leakage due to the pores between each stitch. Seams require complete sealing for a tent to become waterproof.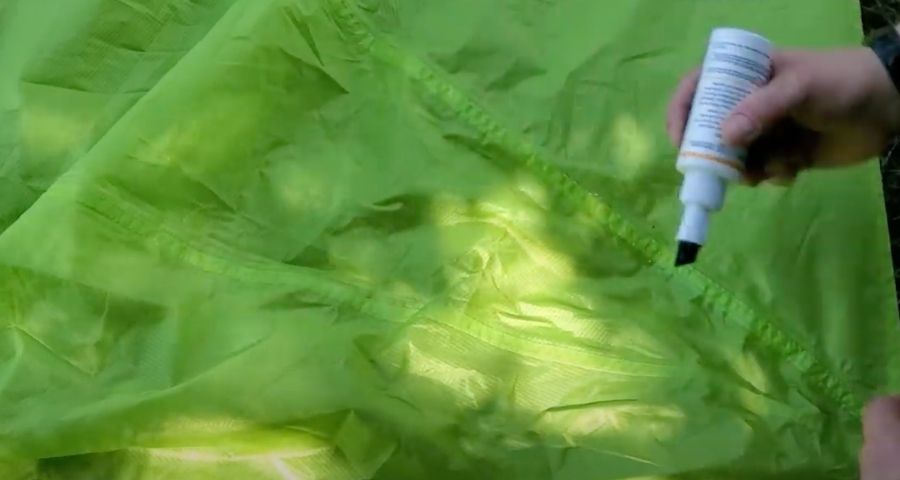 Silicone Tent Sealant: Silicon-based seam sealants are great for waterproofing the most prone areas on your tent. They are durable, easy to apply, and can waterproof your tent for a longer period of time.
My recommended product is. The Seam Grip by Gear Aid (Amazon Link).
Zipper 
Bad quality zippers are the worst when it comes to dealing with moist weather. These zippers tend to get stuck and can also cause water to leak inside the tent. It is better to check zippers too, before buying a tent.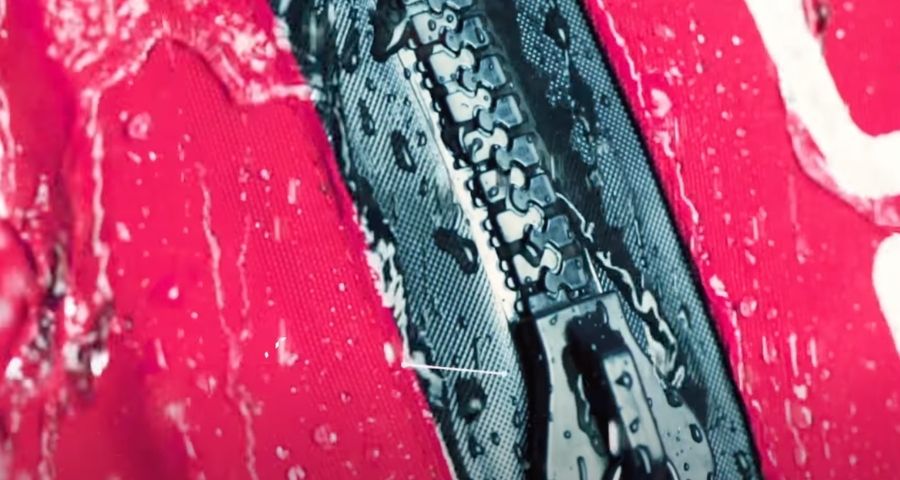 Polyurethane-Coated Zippers: The most popular and recommended PU-coated zipper is the YKK zipper from Uretek. Polyurethane coating saves zippers from all sorts of corrosion and deterioration. 
How to Fix a Leaking Tent?
We have talked about ways to make your tent waterproof before your trip. Now, what if we are already on our way or the campsite and the tent starts leaking? Let's discuss hacks to save the trip.
#1 Use a tarp or any other nylon sheet
Some tents usually come equipped with a rain fly but considering yours isn't one. You can use any tarp or nylon sheet and tie it over your tent in an A shape.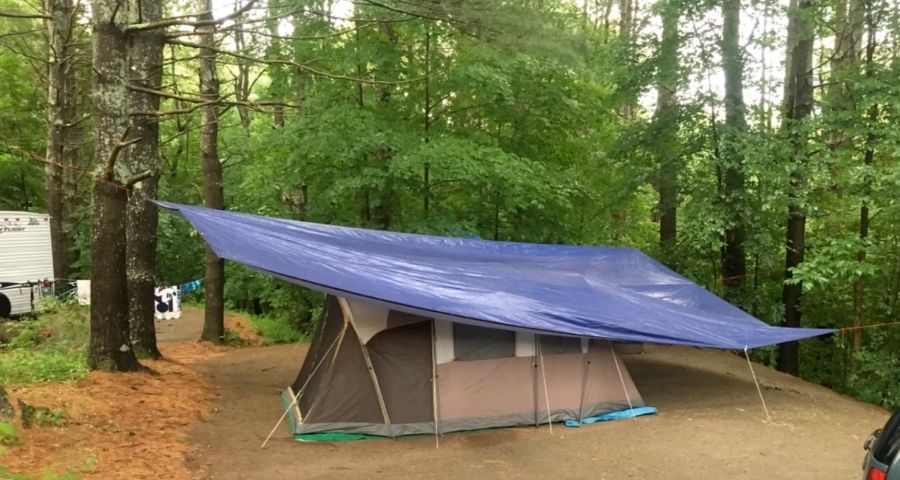 Nylon is a hydrophobic fabric; it's not completely water-repellent but can resist water to some extent.
Putting it over your tent in an A shape will allow water to roll down and get you a dry tent eventually. It is always a good idea to carry a suitable-sized tarp with you on your trip, as it can be used for multiple purposes.
#2 Gorilla tape will save the day
This might sound funny, but it unbelievably works. All you need to do is patch up all the holes with a gorilla or duct tape from the inside. You can also use gorilla tape to cover seams or zippers to stop water droplets from coming in.
#3: Don't let water sit on top 
Flats surfaces are your worst enemy in the rain. Water, if it accumulates in one place, can cause leakage. The water pressure will cause water droplets to make their way inside the tent.
Elevate the top of your tent and the group sheet to allow water to flow outside the tent after it falls from the top
Do You Need a Waterproof Tent?
Waterproof tents are comparatively expensive, and you might not always need one. It depends on the amount of dew, snow/rainfall you expect on your campsite.
In most conditions, what you need is a tent with good water repellency.
Waterproof tents are usually costlier than an average tent. So, it's a good idea to see if you can make your existing tent work using any DIY tent waterproofing methods.
What Is the Different Between Water Repellent and WaterProof?
Water repellency implies that the tent material has some tendency to resist water penetration inside the weave. Still, in those tents, droplets will eventually slide in because the weave is, of course, porous and penetrable.
On the other hand, waterproof fabric is generally coated with chemical layers, which tend to block all the natural pores and weaves of fabric that a tent possesses. Waterproof tents are completely immune to any water or air penetration.
Tent waterproofing rating – HH Rating
Most of the camp manufacturer mentions an HH rating over the tag or somewhere under the tent guidelines. This HH – hydrostatic head rating tells you about the amount of water your tent can resist or the measure of water pressure required to break the waterproof coating.
| Hydrostatic Head (mm) | Water Repellent/Proof | Good for |
| --- | --- | --- |
| 0-5000 | Slightly water repellent | Drizzling |
| 6000-10,000 | Highly repellent to water | Light rain |
| 10,000-15,000 | Water proof (under low pressure) | Moderate rain |
| 15000+ | waterproof (under high pressure) | Heavy rain |
 Tent Waterproofing – Conclusion
A leaking tent is not an ideal situation during a camping weekend so it's essential to make sure your tent remains dry.
For that, you can buy an expensive waterproof tent or make your existing one waterproof by applying the above methods.
Living in a tent that ends up suffocating us is not very ideal. We desire a good hydrostatic head with durable fabric, seams, and zippers that allows us to breathe, be comfortable and enjoy the weather without getting wet. For that purpose, using any of the waterproofing sprays will do the trick.
Happy camping!
Related article: How to avoid spiders during camping?
Recommended Camping Gears: I have compiled a list of my favourite camping gear in one place. The selection is based on my own personal experience using them for many years camping as well as feedback from fellow campers. Check them out on my Recommended Camping Gears page