There is a false connotation associated with hammock camping that one can only enjoy hammocks in summers when you can feel the warmth of the sun on your skin. But what if you want to enjoy winters as much as summers in your hammock.
Well, That's very much doable; besides, there's only one major concern for the trip: how to stay warm in a hammock during a cold night? In winters, the temperature can fall up to 40 degrees Fahrenheit at night, and it's challenging to sleep cozy in a hammock but not impossible.
So, how to stay warm in a hammock? To stay warm in a hammock during winter camping, use the right gears like sleeping pads, under quilts, mylar blanket, or sleeping bag. You should also pitch your hammock correctly by hanging it closer to the ground and at the opposite side of the wind blow. You can also use warm clothing like woolen thermal linings, socks, gloves, and headcovers.
Each gear that provides comfort and warmth have their own issues associated with them, what we require is not something that suffocates us or causes condensation. We need toasting warmth that doesn't affect breathability. I will help you to choose the ones that provide ease and warmness!
Let's begin…
#1 Warm clothing to the rescue
No matter how much time you spend on selecting you winter sleeping gear, you won't be warm enough until you're all backed up with your winter clothing.
When temperature goes down to 25-30 Fahrenheit, It's difficult to keep your body warm. Specially your feet. Feet are the hardest to warm when you feel cold.
To be comfortable, you'll need at least three layers of clothing with woolen gloves and socks. The bottom layer, middle woolen lining layer, and top waterproof/windproof light-weight synthetic garment layers.
My personal favorite socks to wear on those cold windy nights are carhartt arctic woolen sock, they are super warm and keep your feet at comfort all night long.
#2 Hot saviors – warm water bottles
This trick has done wonders for a lot of campers. It is super easy to do and will keep you warm all night.
All you need is to boil 500-600 ml of water, pour it inside the Nalgene bottle (or any bottle you carry), and keep it with you while you sleep. Nalgene bottle helps the water in staying warm for hours and will help make you more comfortable.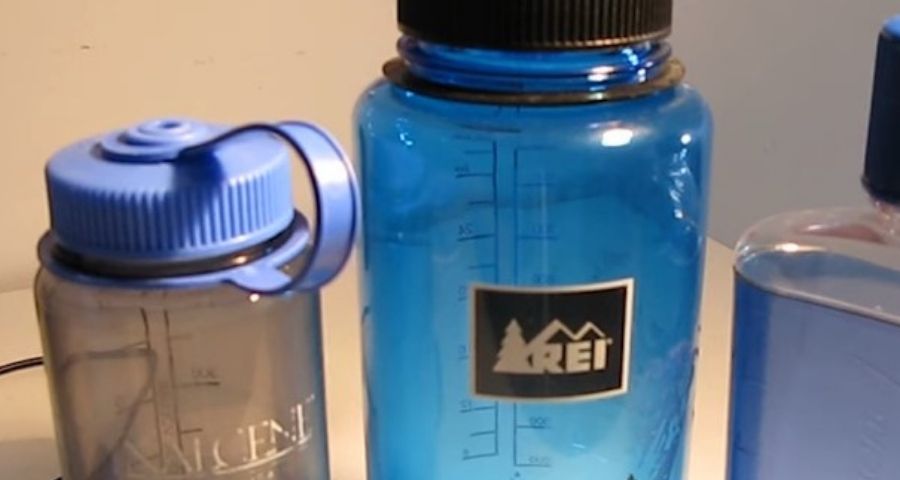 Another hack is to cover this bottle with a woolen sock. This will keep you from touching a hot water bottle and insulate the bottle even more. So the water stays warm longer throughout the night.
The other hack is to put this water bottle inside the sleeping bag before going to bed. This will save you from the instant chills of polyester.
If you want to spend a few extra bucks, you can get hot water packs (like this one) with woolen cover to keep your sleeping bag warm.
#3 Become a burrito – Sleeping bag, foam pad and quilt
It is essential to save yourself from the cold. For that you might need layers of insulation.
Under quilts and over quilts provide awesome protection from the cold and wind. You might also need a synthetic 10-20 degree sleeping bag.
Sleeping bags can also be used with over quilt. It will not only keep you warm, but the layers save you from winds by keeping you well protected.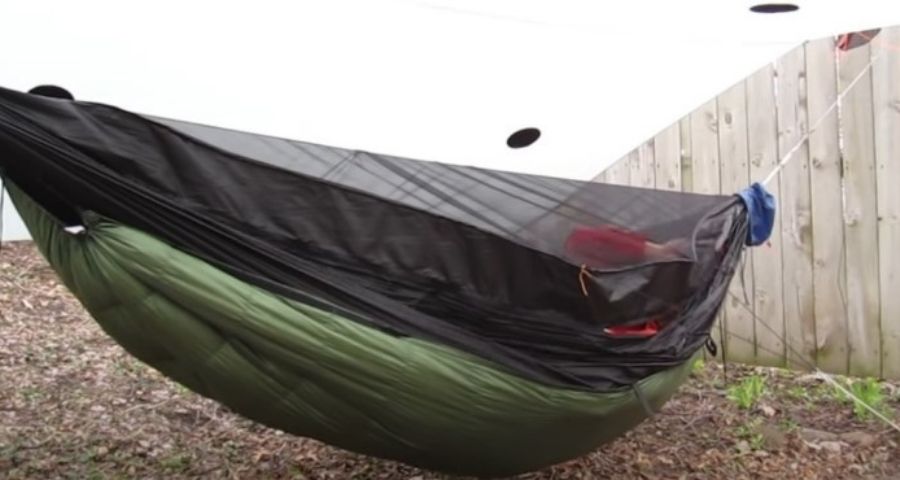 Closed-cell foams (like this one) also have a reputation for retaining body heat and providing insulation.
These foams are not only comfortable but are also perfect for winter camping due to their heat retention.
#4 The heating bud – Mylar space blanket
A mylar blanket or space blanket is undoubtedly the best heating bud you will have in your winter hammock trip. You may look like a quesadilla packed in a plastic sheet but trust me you will be warm!
It really works.
Mylar is made up of metalized sheet which is super lightweight and thin. This sheet traps around 90 percent of the body heat and keeps you warm.
Campers widely use these blankets all over the world for winter camping. They are also called rescue blankets.
Don't Die In The Woods is by far the most popular mylar blanket among habitual campers due to its excellent insulating property. Unlike naked mylar blankets, this one has a double-sided nylon sack that makes it ripstop and tear-resistant (also it is really really compact).
Tough the only drawback of Mylar is its noise. Because it's a thin plastic-like sheet, it can be annoying to sleep in for some campers due to its weird sound.
#5 Oppose the air – Spot selection
Choosing your campsite location during winters is way critical than in summers. In summers, you need a good flow of air in a well-ventilated area. In winters, a gust of cold wind can freeze you to toes.
During winter camping, you need to be aware of the wind flow of your campsite. The open camp location with fewer trees has better airflow, which you would want to avoid in winters.
What you need is an area covered with trees which is not too high up because mountain top areas are always colder than down-hill areas.
Another tip to oppose air at max, is to tie your rain fly and tarp in the direction where it opposes the air flow completely and keeps you warm inside your hammock.
#6 Get down to earth – Literally…
This trick is used by almost all the campers who camp during cold windy nights.
The trick is to tie your hammock so low that it almost touches the ground. The closer you are to the ground, the more insulation and less ventilation you will get.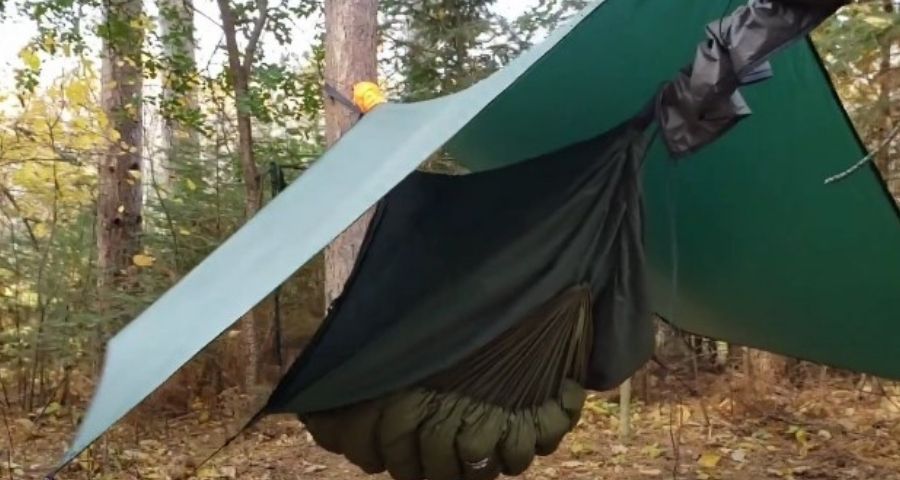 What it does is saves you from the airflow below and above you, so you do not feel cold. Just make sure the ground below you is not wet or snowy.
How cold is too cold for hammock camping?
There nothing like a 'too cold' for hammock camping. The minimum temperature you can camp in can be as low as 10 to 20 degree Fahrenheit. Campers have even camped in 0 degree Fahrenheit temperature.
It depends on your gear quality, winter tolerance and strength and above all your will power to get through cold nights.
With good quality gears, you can make your hammock as comfy and cozy as a tent.
How to completely insulate a hammock?
Complete insulation can cause breathlessness and discomfort. However, the combination that provides best insulation is under and over quilt.
Overquilt works exactly like a blanket but the under quilt has separate benefits, under quilt cover your hammock completely by turning you into a cocoon.
You can also buy a hammock cacoon – a sleeping system with an overquilt and underquilt combined into a single cocoon-like covering for maximum protection. This one from Snugpack is by far the most popular one among campers.
Of course, you have options like insulating 20-degree sleeping bags and mylar blanket as well. It basically depends on your personal preference!
How to stay warm in a Hammock – conclusion
Hammock camping may sound like a risky thing to do in winters. But, what we do not know is, that hammocks can be made as warm and comfy.
All you need is the right quality gears to keep you toasty warm during cold nights. If you have the right gears and the right information about 'what to do' and 'what to avoid' during winter camping, you will ace it as well!
This blog is part of our comprehensive hammock camping guide. If you are new to hammock camping, read the complete guide to get ready for your next camping trip.
Recommended Camping Gears: I have compiled a list of my favourite camping gear in one place. The selection is based on my own personal experience using them for many years camping as well as feedback from fellow campers. Check them out on my Recommended Camping Gears page