In this article, we are going to discuss popular alternatives to air mattresses used for camping. If you are not happy with your air mattress, this article will show you 5 alternatives to sleep well during your camping nights (both for single campers and couples)
Air mattresses are a popular choice for campers all around the world. I have personally used them during countless camping trips. Some people might find them very comfy and easy to carry but for others, they are not so great (there are many reasons). If you are reading this article, that means you are looking for alternatives to your air mattress.
A few popular air mattress alternatives for camping are:
Hammock: Very comfortable, easy to carry and can be pitched almost anywhere. My favourite.
Camping cot: Small portable beds to give you home like sleep.
Foam sleeping pad: Essentially a thin foam to give you enough cushion on a rough ground.
Sleeping bag: Two in one functions (insulation + cushion) if you are backpacking.
Self inflating sleeping pad: Much like air mattress minus the extra weight. Best for backpacking.
Foam topper: Cut down your normal foam topper to your desired size and roll it up in your backpack.
There is no one-size-fits-all solution for everyone here because everyone camp differently. Young people don't mind sleeping on a hard foam but for aged campers who need to take care of their backbone, more cushion is needed. Also, some of the options are more suitable for single campers and some are suitable for couples. Let's look at each of them in more detail.
Why is air mattress BAD for camping?
Despite being popular because of its smaller volume and lightweight, campers tend to get rid of their air mattress just after a few trips. I have been the victim of deflating air mattresses on many occasions and it has left me sleepless at times. So, what makes air mattresses BAD for camping? Here are a few reasons people start looking for better air mattress alternatives after a few camping seasons.
1. They puncture & leak
Air mattresses are very prone to punctures and often you end up with a hole in it. It takes just a small pin, rock, or thorn to rupture a brand new air mattress. No matter which one you buy, you'll end up with a leaking bed sooner or later. Well, of course, you can repair yours, but the time and money wasted would make you think about other alternatives very soon.
Even without a punctured hole, a fully inflated mattress generally loses air during the night through seams. I have seen this issue with almost all the brands. If you go to any camping sub on Reddit, you will see people complaining about sleeping in a hole in the morning.
2. Noisy and uncomfortable
I, for one, cannot sleep on a squeaky bed and that's what an air mattress is. It makes a lot of noise under your body and you would not only be waking yourself up but your partner as well.
Air mattress also lacks firm support beneath your body that you are normally accustomed to while sleeping in your regular bed. So, getting used to it takes a lot of time.
3. No airflow – means all sweaty
Our normal home beddings are made of moisture-wicking fabric that can absorb your body moisture during the night and keep you dry. But, with an air mattress, you are basically sleeping on a plastic surface made of Polyvinyl Chloride (PVC) or some other similar material that is non-breathable and water-tight. That means, your body sweat is not absorbed and you feel wet and uncomfortable especially during summer camping season.
4. Need inflating pump
When camping, you are not always around a power source and that's why can't always use an air pump to inflate your air mattress. Inflating an air mattress without a pump or electricity is another headache that you would want to avoid on your camping trip especially if you are not carrying a not-so-quiet camping generator or other AC power source.. Even with the manual hand pumps, it's not an easy task. So, why bother at all with an air mattress?
5. Not suitable for winter camping
If you are going winter camping, you should absolutely avoid an air mattress. The reason being, the trapped air inside the mattress gets cold very quickly during the night and starts sucking your body heat due to the temperature difference and you wake up cold. You can remedy this by sufficiently insulating the air mattress but still it's not very ideal for winter camping.
6. They are unreliable
You don't want to be heading to the wilderness with something that can break down any time and COMPLETELY ruin your camping experience. Your bed is one of the most important things in your camping gear and you don't want to risk it. During my camping days with an air mattress, I always had an emergency foam with me and it has saved me a number of times. So, why carry something that can go useless without any warning sign?
But you are here which means you are already a victim of one or more of the above and are looking for alternatives to air mattresses for your next camping trip so, let's look at things that can replace our air mattress.
6 best Air mattress alternatives for camping
#1 Hammocks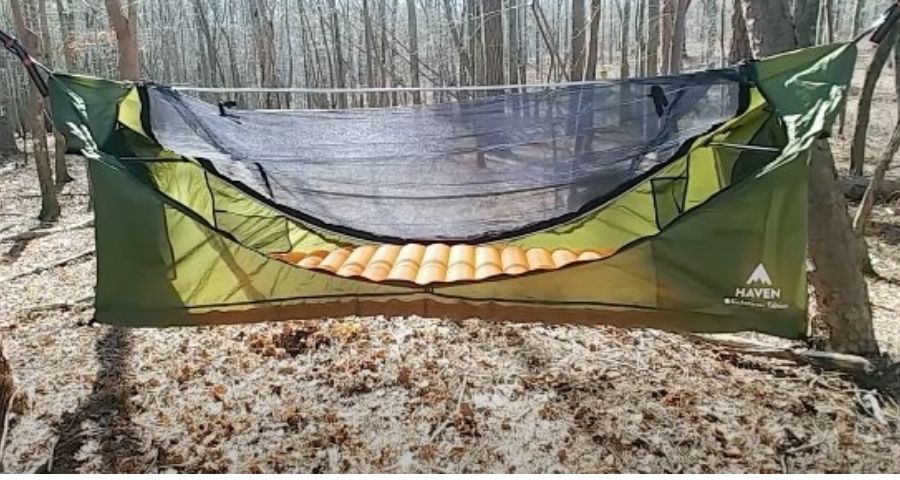 Hammocks are probably the most popular sleeping option among campers right now. They practically replace your entire tent. Is hammock better than a tent? Well, that's up for debate. When you think of a hammock, you might get an image of someone lying and relaxing, probably reading a book on a sunny day but hammocks have been camper's tool for ages.
When I first started camping, my impression of the hammock was "an uncomfortable position to sleep" but that has changed a lot now. Now, I consider hammocks to be one of the most comfortable sleeping options.
A lot of campers I have met on trails and campsites say that hammocks actually helped them decrease their back and joint pain.
Hammocks naturally support your neck and back and provide a slight stretch to the lower half of the body, which not only relaxes a person but makes him sleep faster.
The only negative thing about hammocks is that you might find it difficult in areas where there are no suitable trees to tie up your hammock. Although there are ways to hang your hammock without trees but they do need a touch of ingenuity.
Note: If you are new to hammock camping, read my complete beginner's guide to hammock camping.
So, as an alternative to air mattress for camping, a hammock would be my first suggestion. Here is why:
Hammocks are lightweight to carry in your backpack compared to a heavy air mattress.
You can hang them almost anywhere and with a tarp above, you don't even need a tent.
They are reliable and don't easily breakdown.
They provide a very comfortable sleeping position.
You can pitch your hammock in a few minutes. No expensive air pumps or blowing your lungs out to inflate the air mattress.
With suitable accessories (underquilt, topquilt, foam pad etc.) hammocks can be modified for winter camping as well.
If you are looking for your first hammock to try, there are a lot of good brands out there making great hammocks. Some notable brands are Wise Owl Outfitters, ENO JungleNest, and Legit Camping hammock.
#2 Foam Sleeping Pads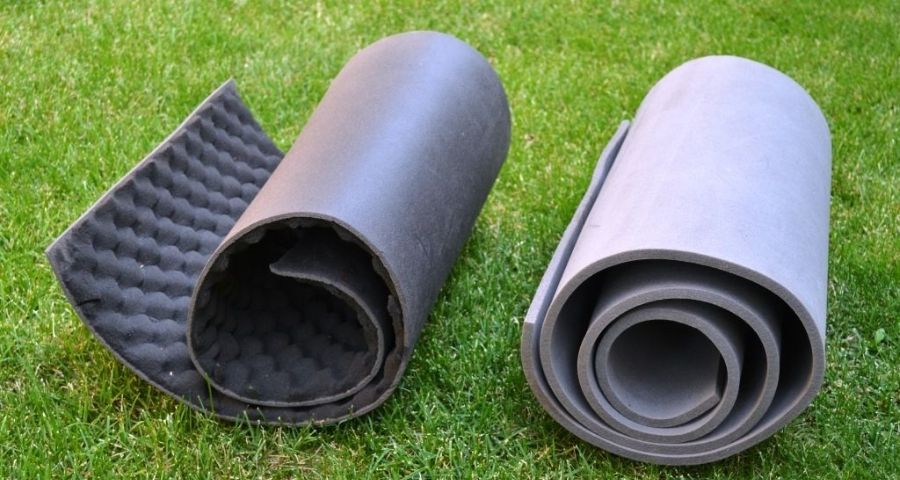 Sleeping foam pads or sleeping mats are the most reliable camping option in my opinion. They don't have air, they don't have any breakable parts, they don't have any moving or mechanical parts so there is absolutely nothing that can go wrong with carrying a sleeping foam – hence the most reliable option.
They come in different thicknesses and it's up to you to choose according to your comfort level. The thicker you get, the harder it will be to carry especially if you are backpacking.
This pad provides way more heat and comfort than a regular air mattress. They don't make any noise and provide enough lumbar support for a good night's sleep.
Closed-cell foam pads are the type of sleeping pad you want to take on your summer trips. They have a closed structure, so they are much denser and comfortable to sleep on.
These pads are slightly thinner and less insulating, which is why they are easier to carry and sleep on. They are also very inexpensive but long-lasting and can be your sleeping partner for a long time.
Foam sleeping pads have the following benefits as alternatives to air mattress camping:
They are highly reliable and lasts a long time.
Easy to carry and easy to make bed.
Porous hence provide better moisture wicking and airflow.
Provide good insulation due to small trapped air packets inside the foam cells.
You can chose the thickness depending upon the cushioning you need on the ground.
They are dirt cheap compared to an air mattress hence pocket friendly.
If you are going to replace your air mattress with a sleeping pad, Therma-a-Rest makes great camping foams. Look at their Z Lite Sol foam pad on Amazon. Their RidgeRest Classic is also a very popular pick among the camping community.
#3 Self inflating sleeping pad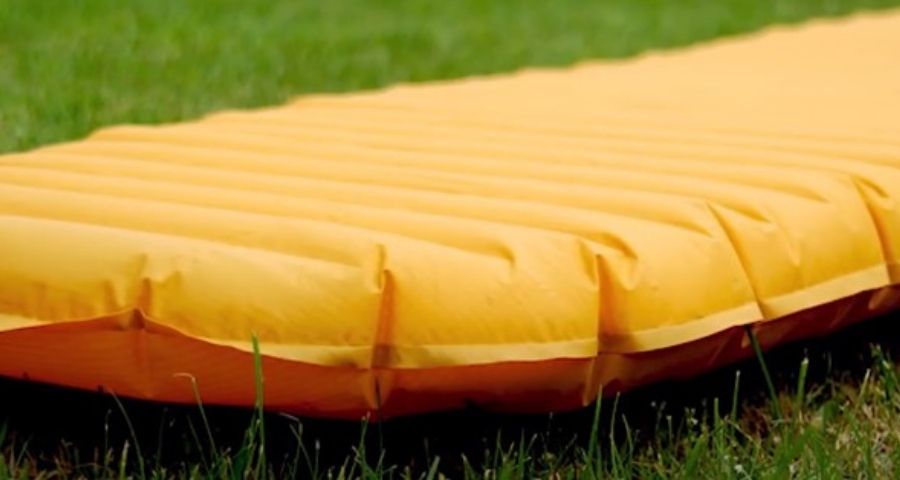 You must be wondering why I am suggesting another inflating pad to replace your air mattress? Aren't they both the same thing? The answer is: Hang on I am going to tell you 🙂
Self-inflating pads are quite similar to air mattresses with a very important and key difference: Unlike the air mattress, they inflate when the valve is open (or there is a puncture hole in the pad).
These pads are small and thin (3 to 4 inches when inflated) compared to air mattresses and are quite lightweight as well (around 100oz). You don't need an air pump to inflate them.
They are self-inflating which means all you have to do is open the valve and let the memory foam suck in the air. To adjust the firmness, you might have to blow in a few breaths but that's about it.
These mats are more insulating than closed-cell foam because of their structure, which is good for winters. They are also cheaper and easier to carry as compared to an air mattress.
As an alternative to air mattress, a self-inflating sleeping pad has the following advantages:
It won't deflate easily because of the memory foam.
If you buy from a good brand, it can lasts for years (decades even according to some campers).
Its lightweight and easy to carry.
Available for single sleeper as well couples (duo versions) from most brands and models.
Provide better lambar support compared to the air mattress.
Provide better insulation when used during winter camping because of the air packets inside the memory foam.
So, which self-inflating sleeping pad you should get? Here are a few suggestions based on my own experience and what I have learned from other more experienced campers.
Exped is one of the most trusted brands when it comes to self-inflating pads. Their products have garnered recognition among the most experienced campers. Especially check out Exped SynMat, Exped Megamat 10, and Exped DownMat 9.
Other notable brands are Nemo Astro, Therm-a-Rest Trail Pro, and KLYMIT Static V.
#4 Sleeping Bags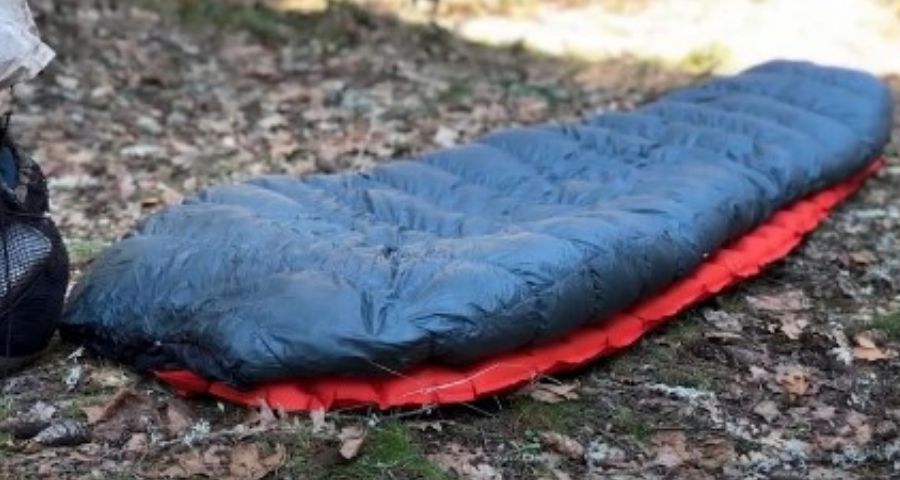 Although the primary purpose of a sleeping bag is to provide insulation and warmth, it can also be used as a cushion to sleep on if you don't have any other option.
A sleeping bag is part of any backpacking or camping gear so you are not going to buy additional gear rather repurposing something you already have (or should have) as a makeshift bed.
I consider this option more of a "hack" than a permanent solution. The reason is; your sleeping bag is not designed to provide a good cushion and if you keep using it as a sleeping pad, it will compress and lose its insulation soon. So, only do this occasionally, and don't make your sleeping bag your permanent sleeping pad.
Though not an ideal solution, some of the benefits of using sleeping bags as alternatives to air mattress are:
You are already carrying a sleeping bag so no additional gear needed.
Can provide both cushion and insulation during chilly nights.
It is reliable as there are no parts prone to break during the night. It won't deflate either.
It makes your backpack lightweight as you are not carrying a dedicated sleeping pad or foam.
For the best result, I would suggest combining two options together i-e Sleeping bag + foam pad. That way, you get the comfort and warmth of the sleeping bag, and the additional cushion provided by the foam makes your bone rest a little better on solid ground.
Coleman and Teton make the best sleeping bags. You can select from their wide range of options depending on the temperature and weather conditions at your camping locations.
#5 Camping Cot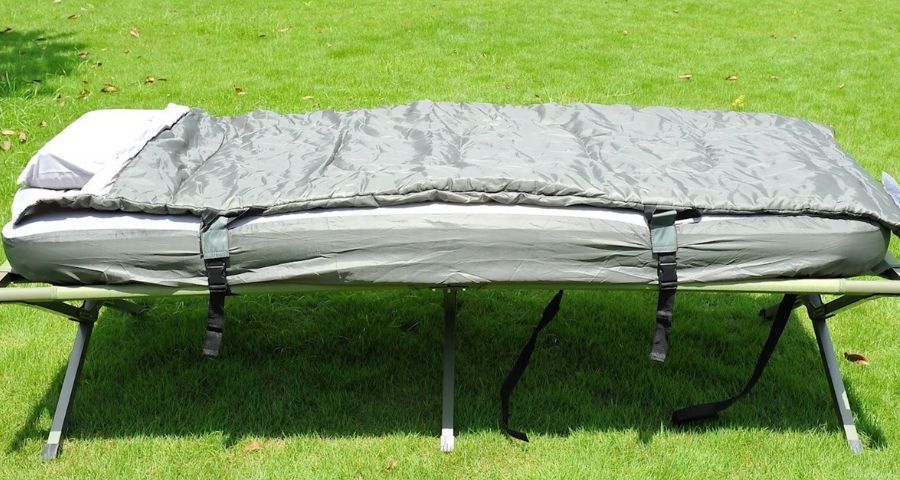 A camping cot is one of your best bets to completely replace your prized but troublesome air mattress. It is essentially a small bed that you can fold and carry along for camping.
They are ideal for single campers but if you are camping with a partner, you can still join two cots to make it look like a full-size bed. It's not ideal for a romantic cuddle under the stars but it surely is a reliable option compared to your air mattress.
Sleeping cots comes in different shapes, sizes, and types. The most basic cot is a tarp suspended between a metallic frame to make a simple bed. You can put a memory foam or a self-inflating mattress on top to make it comfier for chilly nights as well.
Compared to an air mattress, a camping cot has a lot to offer:
You sleep off the ground that means you are relatively safe from citters and crawlers like scorpions..
Unlike an air mattress, you don't risk a breakdown or delfation during the night.
They are very reliable and can last for years.
For summers, they provide better airflow compared to the vinyl air mattress.
If it rains and you are camping without a tent, you are still quite safe from the water and mud.
Being elevated from the ground also makes you feel safe and more relaxed.
They are relatively cheaper compared to air mattress and last long so its a better value for money.
I have written another detailed article comparing camping cot vs. air mattresses if you want to read further on the topic.
A sturdy camping cot can be your best option if you can't sleep on rough and solid ground. If you are going to look at some options, I would recommend checking out Coleman Trailhead Cot. I also like the Therm-a-Rest Mesh cot.
#6 Foam topper
This option is something of a DIY in nature. You must be familiar with foam toppers like this one. They are normally used with old foam mattresses to rejuvenate them or as a softcover to a hard mattress at homes.
If you have an old foam topper laying around in your home, you can cut it down to your size (minimum possible size that can serve the purpose without adding unnecessary weight) and use it as your sleeping pad.
Now, why do I like this solution? Partly because foam toppers are designed for comfort (so yeyyy) and partly because I like repurposing things for secondary use instead of trashing them out in the garbage. If you are extraordinarily big, you can cut the foam topper to your size without the need to find a suitable size sleeping pad or foam pad.
So, what's the best way to sleep comfortably while camping?
Hands down, the best and the most comfortable way to sleep while camping is to sleep on a hammock. I will put a camping cot in second place and it will be a perfect air bed alternative for all seasons .
A good percentage of campers enjoy sleeping in a hammock. It is good for your body posture, very cozy, and effortless to pitch.
If you want extra comfort, you can add a yoga mat or a sleeping pad to your hammock to get a better night of sleep.
With a hammock, you feel like floating in the air; you might feel like it was the best sleep you've ever had.
What camping bed is the best for summer?
The best option to sleep on during summer camping would be a closed-cell sleeping pad or any mat.
It would be best if you went for gears that are more insulant and stiffer for summer camping, as these beds do not retain heat and lets you sleep cooler.
You can also sleep on a thin sleeping cot or a hammock to keep cool and cozy during hot summer nights or to enjoy your summer evenings.
What camping bed is the best for winter?
For camping in the winter or cold camping in general, a sleeping bag is your safest bet for a comfortable night. The type and temperature rating depend on how cold it is.
There are normally three categories of sleeping bags based on their temperature ratings.
Cold-weather/winter sleeping bags: 20°F and below
3-season sleeping bags: 20 to 32°F
Summer/low-elevation sleeping bags: 32°F and above
To further understand how sleeping bags are rated on EN/ISO scale, check out this helpful article.
Select the one that is close to the temperature range you are expecting at the campsite and pad it with a good sleeping pad. You can also carry an emergency down feather or polyester quilt for one of those extremely cold nights.
Conclusion
After a long day of camping, trekking, or hiking, a cozy, comfy sleeping bed can literally make your day. You need sleep as much as you need water or food while camping as it charges you for the destination ahead.
Making the wrong sleeping pad choice can make you feel tired all the time, which is normally the case with air mattresses. Each sleeping gear is designed to provide a different type of comfort.
It depends on the camper's choice whether he wants a stiff, soft, or cushiony bed. Whether he finds hammocks comfortable or he wants to feel at home.
This is why it is important to choose your sleeping gear wisely. This article was meant to provide you a better alternative to blow up mattresses. I hope you will find the suggestions in this useful for your next camping trip.
Recommended Camping Gears: I have compiled a list of my favourite camping gear in one place. The selection is based on my own personal experience using them for many years camping as well as feedback from fellow campers. Check them out on my Recommended Camping Gears page